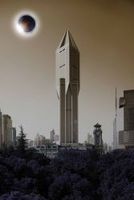 Shanghai, China (PRWEB) July 11, 2009
Witness the longest total solar eclipse in over a century in style at the JW Marriott Nanjing Road luxury hotel in Shanghai on July 22nd. Watch the morning sun turn to darkness during this rare total eclipse during your breakfast at the best viewing spot in town. The iconic and futuristic Tomorrow Square building in the heart of the Shanghai is host to the majestic JW Marriott Luxury Hotel on Nanjing Road which will provide a clear, 360 degree view of this must-see event from the hotel's lobby on the 38th floor. Book this fabulous package now at http://www.marriott.com/hotels/hotel-deals/shajw-jw-marriott-hotel-shanghai-at-tomorrow-square/ and secure a 360 degree viewing experience in one of the finest Nanjing Road luxury hotels in Shanghai.
The 360˚ Solar Eclipse Package is priced at 2660RMB* per room, including one night's accommodation in a deluxe room, Champagne breakfast in the Marriott Café with 360 degree views of the city, or you can enjoy the experience in the comfort of your own room and order room service breakfast. The package also includes a magical spa experience at the award winning Mandara spa. The Champagne breakfast alone is available at RMB360** per person which includes special viewing glasses for you to take away as souvenir. For an open-air viewing of the eclipse guests will have access to our outdoor swimming pool area on level 7 where you can marvel at one of nature's truly amazing events.
Standing 60 stories high towering the Puxi skyline the JW Marriott Nanjing Road luxury hotel offers quite possibly the best view of Shanghai. It faces the famed People's Park and Square, Shanghai's former race track from the decadent era of the 1920's and 30's. The luxury hotel on Nanjing Road in Shanghai offers a breakfast with 360˚ views of the city where the scene will be set for a fantastic morning whilst watching the once in a life time moon-sun-earth conjunction. The viewing from the Nanjing Road luxury hotel's plush lobby leads directly from the breakfast area of the Marriott Café. The floor to ceiling windows drench the lobby with natural daylight and will provide a sensational viewing for the eclipse.
For guests discovering Shanghai for the first time, why not book a personal driver to cruise you through the streets of this edgy and dynamic metropolis. Your driver will take you on a journey that will feature all the major city sights, including the famous BUND, French Concession and so many more interesting and untouched corners of Shanghai. The tour will be tailored to your choice by our team of highly skilled concierge***.
Then, upon returning to the JW Marriott Nanjing Road luxury hotel in Shanghai, the Mandara Spa will welcome guests back with a 360˚astrophysical treatment, providing the perfect way to relax after your exciting journey. The traditional Chinese medical massage is used as a natural therapy to eliminate syndromes, restores balance to the body and enhances your overall wellbeing.
For reservations for this unique event, please call: (86 21) 5359 4969 or visit the Nanjing Road luxury hotel's website at: http://www.marriott.com/hotels/travel/shajw-jw-marriott-hotel-shanghai-at-tomorrow-square/
Note to editors: a solar eclipse can only happen during a new moon, when the sun and moon are in conjunction as seen from the earth. This Shanghai solar eclipse is the longest total solar eclipse in the twenty-first century, and will not be surpassed in duration until June 13, 2132. The astronomical phenomenon begins with a partial eclipse starting at 08:23am and finishing at 11:01am, and the full eclipse will totally last about five minutes from 09:36am to 09:41am.
*Plus 15% surcharge and includes 2 adults (subject to availability)
** Plus 15% surcharge, children half price
*** Prices from 800RMB based on a minimum of four hours
Photo Caption:
360˚view at JW Marriott Hotel Shanghai
MARRIOTT INTERNATIONAL, INC. (NYSE:MAR) is a leading lodging company with more than 2,700 lodging properties in the United States and 65 other countries and territories. Marriott International operates and franchises hotels under the Marriott, JW Marriott, Renaissance, Bulgari, The Ritz-Carlton, Courtyard, Renaissance Inn, SpringHill Suites, TownePlace Suite and Fairfield Inns brand names; develops and operates vacation ownership resorts under the Marriott Vacation Club International, The Ritz-Carlton Club, Grand Residences by Marriott, and Horizons brands; operates Marriott Executive Apartments; provides furnished corporate housing through its Marriott ExecuStay division; operates conference centers; and manages golf courses. The company is headquartered in metropolitan Washington, D.C. It is ranked as the lodging industry's most admired company and one of the best places to work for by Fortune® magazine. In fiscal year 2004, Marriott International reported sales from continuing operations of $10 billion, and the company had approximately 133,000 employees at year-end 2004. For more information or reservations, please visit our web site at http://www.marriott.com.
For further information, please contact:
Angelina Yue
Communications Manager
Email: angelina.yue(at)marriotthotels(dot)com
Telephone: (86 21) 5359 4969 ext 6306
# # #