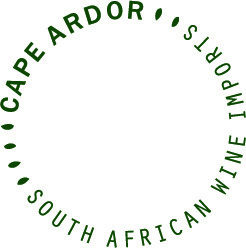 After having been to South Africa several times and spending time in the Western Cape, I had been introduced to so many excellent producers that either had no access or were not being properly advocated to the U.S. market.
San Francisco, CA (PRWEB) July 13, 2009
Cape Ardor is a San Francisco based company that is focusing exclusively on bringing quality South African wines to the United States market. The company owned by Eric Matkovich, a native of California, and his wife, Kara van Niekerk, a native of South Africa was established as what they see as a necessary instrument to bring the quality and culture of South African wine to the American palate.
"It was really quite selfish - we couldn't find quality South African wines in our favorite restaurants," said Eric in discussing his motives for launching Cape Ardor. "After having been to South Africa several times and spending time in the Western Cape, I had been introduced to so many excellent producers that either had no access or were not being properly advocated to the U.S. market."
Top reasons sited were:

Quality producers were too small for mainstream, larger U.S. distribution channels
Glutted portfolios offered little to no dedicated market development for South African producers
South African wine industry organizations were focusing marketing efforts in Europe
Complexity of the U.S. tiered liquor-licensing structures seemed daunting
Having no advocate that focused on exclusively South Africa, quality and boutique wine, Kara and Eric decided they up for the challenge.
"We are going to develop a grass roots awareness & appreciation for the quality South African wine maker's that we have come to know and cherish," said Kara.
In this effort, Cape Ardor will import several producers themselves and also look to partner with other importers for developing broader South African brand awareness. Eric, reflecting on the challenge, said, "We know that we can't do this alone, so we will work with other importers & distributors to sharpen the focus on South Africa's message. This will be accomplished through a combination of grass roots awareness and modern social marketing tools."
Eric provided a brief look at their portfolio to illustrate the caliber of product that Cape Ardor will represent. He notes, that a sampling of the portfolio recently captured three medals at the San Francisco International Wine Competition.
Diemersfontein - Wellington based owners David and Susan Sonnenberg, have earned an enviable reputation as a quality producer of (among others) a South African original, the Pinotage. Diemersfontein Coffee Chocolate Pinotage ($20) was voted the Best Red Wine at WineX in Cape Town, Johannesburg and at the Mercury Wine Week in Durban. The wine is praised for its easy accessibility, its uniqueness, and its wonderful rich coffee, smoky overtones on the nose, along with voluptuous fruit, spicy cinnamon and chocolaty notes on the palate. We see the Diemersfontein Pinotage as an excellent way to introduce Americans to this exceptional varietal.
La Petite Ferme - This small estate is famed for its 'made for food' custom crafted wines. Owner and wine maker Mark Dendy-Young's passion and enthusiasm is contagious. After tasting the 2006 Cabernet Sauvignon ($18), I knew we had to secure an allotment for the U.S. so we arranged a meeting with Mark and worked out the details. This estate only produces around 6000 cases a year across their entire portfolio. We managed a small allotment, so this is a rare gem will not be around for long.
RAKA - Owner Piet Dreyer is one of the most interesting wine producers I've met. He was rooted in commercial fishing and turned to producing wines with the launch of RAKA in 2002. His debut of the Biography Shiraz 2003 set the standard, winning a 5 Star review by John Platter, Gold medals in the Veritas 2005 & 2006 contest, a silver in the Michelangelo International Wine Awards and Gold in the Juliet Cullinan 2005 Wine Connoisseur's Award. We've picked up the Biography Shiraz ($23) along with another excellent, award winning Bordeaux blend - Quinary ($20) that took Gold in the SF International Wine Competition.
Ridgeback - Paarl, situated in the heart of the Western Cape's famous wine producing regions of Franschhoek, Stellenbosch and Wellington. Ridgeback estate was founded in 1997 and delivers on some choice wines. This estate was the first I visited on recommendation and found some truly delightful wines. Once diving a bit deeper it was easy to see why. Reputed winemakers Cathy Marshall and Toit Vessels craft polished wines that avoid excessively high alcohol concentrations. We selected the 2005 Merlot ($19); a Gold Veritas and Silver Michaelangelo award winner along with their 2007 Viognier ($18) recent Silver at SF International Wine Competition. Our final choice was something we found to be a very exciting blend that some South African wineries are playing with. The SMV or Shiraz, Mouvedre, Viognier blend known as His Master's Choice ($20).
Cape Ardor's formal San Francisco launch is scheduled for July 23rd at Cav Wine Bar & Kitchen (6-9PM) located 1666 Market Street, San Francisco, CA.
For more information or where to find these wines please inquire at Cape Ardor.
About Cape Ardor
Cape Ardor is a South African wine importer, distributor and consumer direct retailer that is focused on value & quality as well as promoting the South African wine industry as a whole in the United States. Details on their portfolio as well as upcoming events can be found at Cape Ardor LLC.
# # #