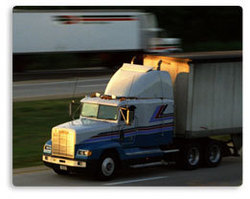 That is where we can help
Colleyville, Texas (PRWEB) July 14, 2009
Jon Donovan Tanner, President of "Your Authority Service" is confident that more truck drivers are going to consider going into business for themselves during the next few years. "As we move deeper into 2009 it is apparent to me that many established trucking companies are having a tough time," Tanner said. "Many trucking companies overextended themselves financially by increasing their existing lines of credit and by purchasing additional trucks when banks were freely handing out money," he said.
"Now, everything has changed, and lenders are actually reducing lines of credit,"
Tanner said. "This couldn't come at a worse time for trucking companies, since there has been a simultaneous decrease in available freight for these companies to haul," according to Tanner.
The immediate result for most trucking companies has been to halt plans for future growth. Many trucking companies have decreased their fleet size by de- leasing their lease operators and/or parking trucks, and in extreme cases, some carriers are being forced to close their doors, according to Tanner.
The impact has been more drivers out looking for jobs. "A few years ago, every trucking company we met with bemoaned the fact that there was an industry- wide driver shortage," said Tanner. "Now trucking companies are turning qualified candidates away."
"Many of these drivers are going to consider going into business for themselves - especially the owner operators who were de-leased from established carriers," said Tanner.
The problem that these truck drivers face is how to make it in business as a new business owner. "There is an incredible amount of paperwork required for obtaining operating authority which needs to be filled out properly before a trucker can legally go into business for himself," said Tanner. "That is where we can help," he said.
"We specialize in putting truckers into business for themselves," Tanner said.
"We are experts when it comes to helping truckers obtain federal authority, such as getting an MC number, filing the Unified Carrier Registration, obtaining a US DOT number, obtaining a BOC-3, explaining hazardous materials (haz-mat) regulations, and most importantly, getting a trucking insurance quote and placing the trucking insurance in order to activate the federal trucking authority," he said.
"All of these state and federal regulations are not easy to navigate for the new in business trucking company," Tanner said. "It's nice to be able to have a one- stop shop for truckers in order to help them start off successfully."
Your Authority Service was designed for the needs of today's trucker. It is the only one- stop shop on the internet where a trucking company can take care of everything required to go into business. Your Authority Service aims to take the hassle out of obtaining trucking authority with quick and easy applications.
###