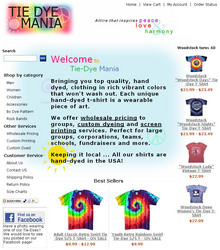 We have had great response to these tees
Cranford, NJ (Vocus) July 13, 2009
August 15th through August 18th in 2009 are not just four typical summer days, but are the re-dawning of the Age of Aquarius, the anniversary of the original Summer of Love 1969: Woodstock. TieDyeMania.com is now offering a new line of women's and men's Woodstock tie dye shirts to celebrate this infamous anniversary.
TieDyeMania.com has the perfect tribute to all those free spirits who danced around a plot of farmland 40 years ago. For the quintessential Woodstock look, TieDyeMania.com has the bright and colorful Woodstock "Woodstock Days" and "Woodstock Nights "Tie-Dye T-Shirts. For the ladies, the infamous Woodstock Dove sitting on a guitar printed on a tie dyed women's fitted cut t-shirt. "We have had great response to these tees," says owner Scott Marino. "People really love the new designs, and often pair it with the classic rainbow tie-dye swirl t-shirt."
So for those four days, do as any good flower child would. Take off you shoes, dance in the grass and enjoy peace, love and summer with a new Woodstock t-shirt from TieDyeMania.com.
Tie-Die Mania (http://www.tiedyemania.com), a division of Panda Apparel LLC, carries high quality, hand dyed tie-dyed t-shirts in a wide array of classic patterns and rock band themes. In addition to its retail line, Tie-Dye Mania offers custom dyeing and screen printing services for large groups, corporations, schools and fundraisers. Tie-Die t-shirts are wearable pieces of art that inspire peace, love and harmony. All shirts are hand-dyed in the USA.
Panda Apparel LLC was formed in 2007 and is owned and operated by Scott and Donna Marino. The two share over 16 years experience in the apparel industry and 10 years of online specialty retailing. As an international business, Panda Apparel LLC is concerned with the worldwide state of human rights and environmental degradation.
###