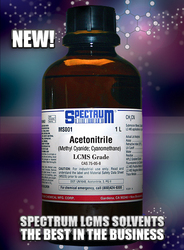 These new LC/MS solvents fill a gap in our product offering, and now allow us to address customer needs in almost every analytical applications space
Gardena, CA (PRWEB) July 13, 2009
Spectrum Chemical Mfg. Corp. (Spectrum) announced the launch of a new line of solvents and solvent blends for Liquid Chromatography/Mass Spectrometry (LC/MS). These high purity products feature ultra low levels of organics, metals, and particulates, and are specially tested for LC/MS suitability to ensure minimal ionization suppression and superior performance. Trace impurity specifications are among the lowest in the industry, and do not exceed 5 parts per billion (ppb) for many elements.
Spectrum views these products as natural extensions of its high purity solvent line, which includes specialized solvents for many analytical techniques, including High Performance Liquid Chromatography (HPLC), Gas Chromatography (GC), spectroscopy, pesticide residue analysis, and biological synthesis and purification. "These new LC/MS solvents fill a gap in our product offering, and now allow us to address customer needs in almost every analytical applications space", says Dr. Arnie Aistars, Chemicals Product Manager at Spectrum. A total of 3 new pure solvents (acetonitrile, methanol & water) and 4 solvent blends (acetonitrile/TFA, acetonitrile/formic acid, water/TFA & water/formic acid) are now available from Spectrum in convenient 1 L bottles and 6 x 1 L cases.
About Spectrum Chemical Mfg. Corp.
Founded in 1971, Spectrum Chemical Mfg. Corp. manufacturers and distributes fine chemicals for production and laboratory facilities around the globe. All of Spectrum's worldwide facilities are ISO 9001 certified, and the California and New Jersey plants are FDA registered drug establishments and operate under current Good Manufacturing Practices (cGMP). For more information on Spectrum Chemical Mfg. Corp., visit -http://www.spectrumchemical.com.
###