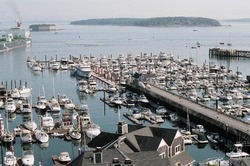 It's a way to give back to those harmed in the line of duty, and say thanks
South Portland, ME (PRWEB) July 11, 2009
Look no further than the upcoming Veterans Appreciation Fishing Tournament at Port Harbor Marine on Saturday, August 1st to say thank you to those who've served the country.
The event will feature a day long fishing tournament through which veterans are given the opportunity to compete for inshore and offshore (deep sea) prizes. After the tournament, a captain's dinner will take place at Port Harbor Marine, where trophies will be awarded to the veterans with the best catches of the day.
"We want to get a bunch of vets who perhaps would otherwise find it difficult to get out on the water to get them out on the water to have a wonderful time," Project Coordinator Harvey Weinstein says of the event goals. "I would like to see New Hampshire start one and see this go all the way down the East Coast and all the way up the West Coast- wherever there's a place to take vets out on the water."
After Weinstein, Dave Johnson, PhD of the University of New England, and Kerry Birmingham, manager of the Family Assistance Center of Maine, a center that assists veterans and their families, finished conceiving the tournament idea they contacted Port Harbor Marine to be its host.
Port Harbor Marine President Rob Soucy and Director of Parts & Accessories Jeff Irish, a veteran, were happy to become involved.
"It's a way to give back to those harmed in the line of duty, and say thanks," Soucy says.
Port Harbor Marine has already recruited more than 20 people to volunteer their time and boats so far. Boaters from other marinas are welcome to sign up as captains, volunteering their time, tackle, boat, fuel and fishing expertise.
"They put in a lot of work already. They're really enthusiastic," Weinstein says of Port Harbor's involvement.
For more information or to sign up contact Jeff Irish @ 207-767-3254 or visit http://www.portharbormarine.com
###