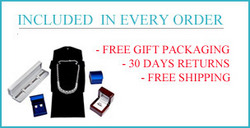 New York, New York (PRWEB) July 12, 2009
USJewelryFactory.com is one of the top manufacturers of fine jewelry; renowned for its ecommerce and innovative marketing platform and prides itself on customer satisfaction and price reductions.
Consumers have been affected by the financial crisis of the recession and this has been one of the main reasons contributing to the decline in jewelry sales and overall spending on the luxury market. Suddenly having to be more cautious when spending, consumers have been focusing on budgeting financial purchases in order to finance their necessities first and foremost. Jewelry is no longer a simple luxury for consumers; instead luxury industries will need to adhere to the current economic standing that currently affects international spending.
Unfortunately the affects of the recession and decrease in spending of consumers has collectively caused the jewelry manufacturers to suffer financially. The situation has resulted due to the recession, and the affects the suffering economy has had on consumer attitudes towards luxury spending. The economy has pushed consumers to retreat away from luxury products leading the jewelry industry into an economic crisis of its own.
There was a 4 percent increase in American luxury sales in 2007, pursued by a more alarming decline that hit in 2008. 2008 marked the first year of intense financial crisis affecting America as well as other countries since the unfortunate losses due to the events of Sept. 11, 2001. Collectively, the decline in value of the "super euro" in addition to the sub-prime crisis has led to the result of consumers to step away from the open divisions of the market, which includes the jewelry industry.
There has however been an attempt to pull the jewelry industry out of hot water and reestablish its worth within the market. Through unison of industry leaders there has been an attempt to help regenerate the jewelry industry; increase the demand for jewelry and jumpstart marketing to show consumers that there are still available investment benefits when purchasing jewelry.
The USJewelryFactory.com has not been profoundly affected by the downfall of the recession. The United States based manufacturer has been providing consumers with percentage discounts which incorporates an astounding 70% off of their top 10 best sellers.
By allowing customers to make small purchases through their jewelry company such as Engagement Rings, Diamond Jewelry and vast variety of Men's Jewelry, USJewelryFactory.com has maintained a profitable sector within the industry. Keeping in mind the financial situation of most consumers, USJewelryFactory.com has been able to establish and maintain operations without being a victim of the flailing industry. This ability to maintain adequate business during financial tribulations conveys that USJewelryFactory.com has turned to consumer commitment as a corporate platform in order to keep sales up to par. This alternative route in marketing and business has had a major play in their apparent "head above water" status in comparison to the rest of the industry.
In addition to price cuts, USJewelryFactory.com provides consumers with helpful links that are offered in order to help with shopping experience and ability to compare prices. A "shop-by-price" feature allows customers to shop conveniently based on their price limits and overall luxury spending budget. Allowing customers to have the comfort of establishing a budget has better allowed them to gear more towards spending. Tactics such as this, used by USJF has allowed the company to maintain its composure and provide room to wean through the crisis. USJF has cut prices up to a staggering 80% showing their ability to maintain business flow while remaining undefeated by the recession. Keeping the lines of luxury shopping open for consumers has been one of their greatest accomplishments as a company.
USJF features customization options that provide consumers with the opportunity to make memorable and personal purchases that are worth the buck and in turn help consumers by reducing the guilt of irresponsible spending. Purchasing jewelry that is unique allow metals and stones to become more than just a showcase of wealth and art, consumers are now able instead to make an investment in family heirlooms and one-of a kind pieces.
By reducing costs for consumers in more ways than one, USJF has established and maintained a strong stance as one of the top jewelry manufacturer in the industry.
For more information about US Jewelry Factory and their products contact a customer service representative at 1-877 777-7670 or visit http://www.USjewelryfactory.com. USJF makes certain that their consumers make purchases with the utmost confidence and security. USJF are members of the Better Business Bureau of New York and the Jewelers Vigilance Committee. USJF is committed to the jewelry industry's highest standards of ethics.
# # #