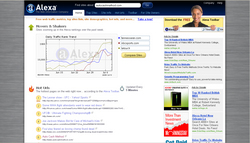 Auto Cash Method is a system that I, myself, have customized and successfully implemented for many months
Jerusalem, Israel (PRWEB) July 13, 2009
Ben Shaffer, creator of Auto Cash Method, announced today that his website, http://www.autocashmethod.com was ranked the sixth most trafficked URL according to Alexa.com, the leading Web metrics company. Autocashmethod.com was the highest ranking e-commerce site after The Lesnar Show on Yahoo Sports came in at number one. The top five URLs included a Yahoo finance story at number two, Ultimate Fighting Championships at number three and Yahoo News and CNN stories respectively.
Auto Cash Method, launched three days ago, introduces a method to create a real and sustainable income online. The eight week Webinar series contains sessions lasting an hour and a half long featuring special guests and industry leaders. It presents a method, requiring between two to three hours of preparation time each, for creating recurring revenue online.
"Auto Cash Method is a system that I, myself, have customized and successfully implemented for many months," said Ben Shaffer. "This ranking on Alexa.com just proves the viral effect of the web and how fast an idea can circulate."
Ben Shaffer, a web entrepreneur for the past five years, became involved in internet marketing because of an operation on his back which left him immobile. Previously a website developer, he abandoned his career once his internet marketing business' revenue became more successful. Ben writes an Internet Marketing Blog at http://www.shmoozewithben.com.
Press Contact:
Gina Shaffer
Telephone: +972-546-493-485
###