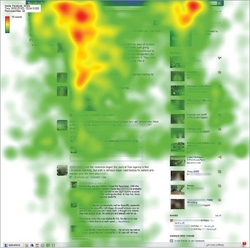 We wanted to know if people actually look at ads when they are on social sites like Facebook and YouTube. Or in the case of Twitter, where will they likely look for those ads when they do begin to appear
Traverse City, MI (PRWEB) July 14, 2009
Social media is all the rage. But can marketers take advantage of this growing online trend, and garner actual business for the company? According to a new eye tracking study conducted by Oneupweb, the answer is yes.
"We wanted to know if people actually look at ads when they are on social sites like Facebook and YouTube. Or in the case of Twitter, where will they likely look for those ads when they do begin to appear," explains Oneupweb CEO and Founder Lisa Wehr. "We found that not only do users spend time viewing paid ads on social networking sites, they often look at these ads before actual search results."
And that's not all. Oneupweb's social media eye tracking study revealed some other surprising statistics about searches conducted on social media sites, including:

A whopping 65% of participants engaged with sponsored ads within the first 10 seconds of their search.
Scan paths do not follow the order of the search result positions. Often, sponsored ads were looked at before the third or fourth result.
There is not a significant difference in fixation duration across the first four results or sponsored ads on both Facebook and YouTube.
50% of participants were satisfied with their brand search on Twitter. Many liked that they could find the most current opinions about a product.
So what does it all mean?
"Since search engines became the main way that people conduct searches for businesses, products and information, we've been under an assumption that people search a certain way. On search engines, a viewer's eye starts at the top left hand side of the page, moving downward and slightly to the right," explains Wehr. "Therefore, they are likely to click on just the first few search results that appear at the top of the page. But this just isn't the case on social networking sites."
She goes on to explain that people enter social networking sites with different expectations, and search results are socially generated.
"Search is changing," says Wehr. "As more people engage with social media, the way they are interacting with brands is being affected and their behavior changes. This eye tracking study proves this."
To download a copy of the study, entitled Seeing Search Go Social: An Eye Tracking Study on Social Networking Sites, please visit OneUpWeb.com.
About Oneupweb
Oneupweb has been an innovator in digital marketing for more than a decade, creating integrated online marketing plans that incorporate natural search engine optimization (SEO), paid search marketing (PPC), conversion improvement and analytics, podcast production, social media marketing, online media planning and placement and search marketing consultation for in-house marketing teams. Heralded by an independent research firm for their leadership team, Midwestern work ethic and solid experience in optimizing complicated sites, Oneupweb has been named a Top 20 Search Marketing Agency by Advertising Age for three consecutive years, and CEO Lisa Wehr is recognized as an Ernst & Young Entrepreneur of the Year. The company publishes an award-winning blog entitled StraightUpSearch. Oneupweb is a privately held company located in Traverse City, Michigan. For more information on Oneupweb, please call 231.922.9977, visit OneUpWeb.com or follow them on Twitter @Oneupweb and @LisaWehr.
###