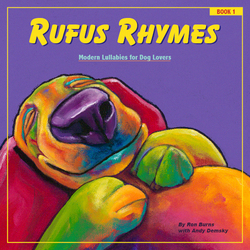 I wanted to create a book that any dog lover ­young or old ­can enjoy. For those just learning the classics, or having not heard them in decades, the lullabies in this book have a fresh twist ­ making this a first-ever book for readers and their pooches
Scottsdale, AZ (PRWEB) July 15, 2009
Ron Burns, Artist-in-Residence for The Humane Society of the United States, is using his joyful passion for animals to give dogs and dog enthusiasts something new to croon about.
His new book, Rufus Rhymes, to be released August 15, 2009, recasts iconic nursery rhymes with comic, dog-centric lyrics and is brilliantly illustrated with Burns's signature paintings, described by The New York Times best-selling author Dean Koontz as capturing "the essence of dogs."
Copies of the book ($8.99) are now available for pre-order at http://www.RufusRhymes.com. All copies ordered during the "pre-order period," unitl August 15, will be autographed by Ron Burns.
"I wanted to create a book that any dog lover ­young or old ­can enjoy. For those just learning the classics, or having not heard them in decades, the lullabies in this book have a fresh twist ­ making this a first-ever book for readers and their pooches," says Burns. "Each lullaby is brought to life with my painted images that show the clownish, endearing traits we all love about dogs."
Also available only during the "pre-order period" is a copy of the book plus a signed, limited-edition Giclee print, measuring 11 x 14, of an image from the book.
Rufus Rhymes is 24 pages and measures 8 1/2 x 8 1/2. Interest in this book of lullabies has already run so high, Burns is at work on a second.
About Ron Burns
Demand for Burns's original work, limited editions, and book continues to flourish on the strength of gallery sales, word of mouth among collectors, and media praise. He has been featured twice on Extreme Makeover ­ Home Edition, as well as on CNN, Fox News, and Good Morning America.
Additionally, his art has been in multiple magazines, including TIME, New York Daily News, San Francisco Chronicle, and Forbes, which writes that Ron's style is "extremely collectible."
Clients include Elizabeth Taylor, the Princess of Morocco, Joan Rivers, Doc Severinsen, and many private collectors. A percentage of Burns sales are donated to animal welfare organizations across the country.
For more information on Ron Burns, please visit http://www.RonBurns.com.
###