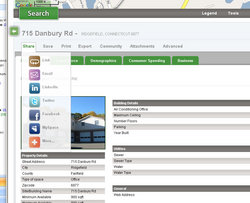 Clients like us benefit from knowing that we will always be on the cutting edge of what really matters to our customers.
San Francisco, CA (PRWEB) July 14, 2009
Social media, social networks and Web 2.0 technologies are changing the ways that Economic Development Organizations are engaging with businesses and corporate real estate professionals. GIS Planning, the leading online maps, demographics and property search technology provider for Economic Development Organizations, has proactively responded to this demand by integrating social media sharing capabilities directly into client websites using the company's ZoomProspector Enterprise technology.
"GIS Planning is always the first to bring the newest online tools to economic development websites," said Kenny McDonald, Senior Vice President of the Economic Development Services at the Charlotte USA Regional Partnership. "Clients like us benefit from knowing that we will always be on the cutting edge of what really matters to our customers." According to Sarah Roberts, Senior VP of Economic Development, Greater Waco Chamber, "GIS Planning continues to be the first-to-market with innovations in economic development websites. By leading in social media integration, GIS Planning has given us a solution that allows us to immediately engage with our customers in the environments that they care about."
Share Property, Demographics, Consumer Expenditures and Other Reports Using Social Media
Now, with the click of a button, website users can virally share any of the available reports about their communities with their entire online network, across a whole host of social networking environments, including Twitter, LinkedIn, Facebook and Digg. This feature is available for property, demographics, consumer expenditures, business, labor force and community profile reports on GIS Planning's clients' economic development websites like WacoProspector.com and CharloteUSAProspector.com, with more GIS Planning clients planning to go live in the coming weeks.
Social Media Marketing Spend to Hit $3.1 Billion by 2014
According to a recent Forrester Research Interactive Marketing Forecast, social media marketing is expected to grow at an annual rate of 34% - faster than any other form of online marketing and at twice the average growth rate for all online mediums. With an anticipated spent of $3.1 billion by 2014, this will make social media a bigger marketing channel than both email and mobile, though still a nascent portion of search and display advertising ($31.6 billion and $16.8 billion, respectively).
Due to their ability to rapidly proliferate content, social-media tools have a direct impact on search-engine rankings. These functionalities encourage users to engage and start the dialogue with Economic Development Organizations about their communities, not only talking about their communities but providing analytics about what reports they share the most across which networks.
For Economic Development Organizations, this creates the imperative to quickly get involved in a rapidly changing medium. GIS Planning's aim is to simplify this process. According to CEO & Co-Founder Anatalio Ubalde, "In addition to helping our clients establish their social media presence on these networks to engage their customers, we want to enable our clients to directly embed these capabilities within their website, and in the spirit of social media, empower their users to take the core content of their website with them. WacoProspector.com and CharlotteUSAProspector.com, who have already implemented these tools, are truly leading the way with revolutionizing how we think about economic development websites by providing their users with the control and flexibility that they expect."
About GIS Planning, Inc.
GIS Planning Inc. has over 190 Economic Development Organization clients, which include the majority of the 50 largest cities in the USA and cover over 7,500 cities. Its Software as a Service is the industry standard in economic development and it is an exclusive partner of the International Economic Development Council, the main worldwide economic development membership organization. For the past three years GIS Planning Inc. has been on the Inc. 5000 list of the fastest growing private companies in the US, and has been covered in over 100 leading news publications, including The Wall Street Journal, BusinessWeek, Forbes, The Washington Post, CNN, CBS, NBC, ABC, MSNBC, Fortune Small Business, Inc., The Los Angeles Times, The San Francisco Chronicle, CNET, and The Associated Press.
GIS Planning is the parent company of ZoomProspector.com, the largest nationwide website for corporate real estate professionals and site location experts seeking the right location for their business. Combining the power of online mapping with GIS, ZoomProspector.com allows businesses to find the perfect community anywhere in the United States based on their unique business needs, such as proximity to labor force, infrastructure and transportation.
###