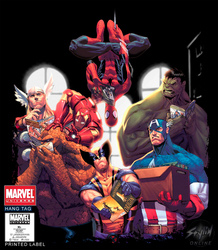 When we design a t-shirt for a fan it comes under great scrutiny for authenticity and uniqueness. We're very proud of the new collection for Comic-Con, and of our partnership with StylinOnline.com
San Diego, CA (PRWEB) July 15, 2009
Two of the comic book genre's super heroes of t-shirts have joined forces to battle the ravenous retail shopping scourge that is Comic-Con 2009, the country's leading comics and popular arts convention.
Online mega-retailer StylinOnline.com has partnered with veteran t-shirt designers at Mad Engine to present twelve exclusive t-shirt designs available starting July 22 at Comic-Con booths 630, 215, 5129, 5345 and 5349.
The t-shirts include closely guarded art from the Marvel Comics Iron Man, titled "War Machine", a Wolverine "Claw" design, Captain America "Re-Born", and a super-hero grouping titled, "Comic Geeks". Disney's classic "Tron" has been included in the collection, as well as Kingdom Hearts "The Kingdom", Power Rangers and a historical tribute to "A Christmas Carol". Sony's represented with the "Stay Puft Marshmallow" from the new Atari Ghostbuster's video game and the classic video game "Contra" includes "Rapid Fire". The collection also includes classics from Mighty Mouse and a new design for the Spring 2010 Disney movie, "Prince of Persia".
James Stylin, President of StylinOnline.com is very excited for the upcoming encounter. "Comic-Con is a force to be reckoned with from a retailers perspective. There's a lot of competition for the hearts and dollars of comic fans. This audience demands great art, and with expectations so high we wouldn't go to battle with anything less than what the artists at Mad Engine give us consistently."
Alby Amato, Mad Engine Founder and recipient of Marvels Comics first Lifetime Achievement Award agrees that fan expectations are high. "When we design a t-shirt for a fan it comes under great scrutiny for authenticity and uniqueness. We're very proud of the new collection for Comic-Con, and of our partnership with StylinOnline.com"
Select shirt designs will be released prior to the show starting Tuesday, July 14 with additional designs released through the web site and social media including MySpace, Facebook, Twitter and TweetPhoto before the show start Wednesday, July 22. All of the t-shirts will be available at retail booths on-site at Comic-Con, as well as online at http://www.StylinOnline.com.
About StylinOnline.com:
Based in Michigan, StylinOnline.com is one of the largest retailers of licensed comic books, movie, TV, video game, music and pop culture t-shirts, sweatshirts, belt buckles and pop culture apparel for men, women, teens, juniors, and kids.
###