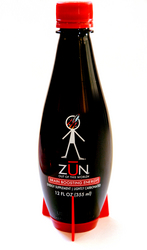 ZUN has a unique offering unlike any of its competitors and has demonstrated itself regionally with unprecedented early market acceptance. I'm thrilled to be a part of reshaping this category
Boulder, Colo. (PRWEB) July 14, 2009
Fuzzee Bee Beverage Company Colorado, the creator of ZUN- the Brain Boosting Energy Drink, announced today that it has added two beverage veterans to its advisory board.
Taking new seats on the board will be Lance Gentry Former IZZE Beverage Management and Sam Simpson Former CEO of Stewart's Beverages. They join Brian Stearns, Founder and CEO of Fuzzee Bee Beverage, and Dale Ream of Harshaw Research Group.
"ZUN is building its advisory board with a seasoned group of industry veterans to ensure our success and manage our growth as we expand nationally," said Stearns. "Both Lance and Sam are great additions and I'm excited to have them onboard."
About Lance Gentry: Lance Gentry has been building brands since 1991. His career began in the feature film industry at Warner Bros. Studios, Touchstone Pictures and the William Morris Agency. Lance left Hollywood to pursue an agency-side career, both domestic and international, delivering marketing campaigns for numerous Global 500 brands. In 2003, Lance accepted a position with a start-up beverage company, IZZE Sparkling Juice, based in Boulder, CO. Lance built the marketing department, international sales and food service sales departments from scratch. Gentry spent four years at IZZE, creating what is today, one of the most successful trade-up brands in the industry. IZZE sold to PepsiCo in September, 2006 for an undisclosed amount and Gentry stayed on as part of the transitional management team. "ZUN has a unique offering unlike any of its competitors and has demonstrated itself regionally with unprecedented early market acceptance. I'm thrilled to be a part of reshaping this category," stated Gentry.
About Sam Simpson: Sam was the founder and CEO of Stewart's Beverages, Inc. The Stewart's brand is a line of super-premium soft drinks anchored by Stewart's Root Beer. During Sam's tenure, the Stewart's brand became the number one beverage in its category, and was sold by major retailers in all 50 states and throughout Canada. In 1998, Stewart's was acquired by the parent company of the Snapple Beverage Group where Sam stayed on as CEO of the Stewart's division and also served on Snapple's Strategic Management Committee until 2001. Sam has extensive experience in business operations and management, consumer products marketing, finance and corporate law. "ZUN is very unique and not another "me too" company, and its early market data is impressive. I'm looking forward to participate in the quick growth of this young exciting company," stated Simpson.
About FUZZEE BEE Beverage Company:
ZUN came on to the radar nearly three years ago as a concept and dream only of founder and creator Brian Stearns. The unique carbonated Brain Boosting Energy® beverage is packed into the world's first international patent protected Rocket Bottle. After 2 ½ years of research and development, Fuzzee Bee has complete confidence in the quality and sustainability of their Brand. Fuzzee Bee is positioned through wise leadership for rapid growth and quick market penetration.
For more information or for investment opportunities please contact:
Brian Stearns
FUZZEE BEE BEVERAGE COMPANY COLORADO
4845 Pearl East Circle Suite 101
Boulder, CO 80301
T. 303-332-3301
F. 303-465-0473
ZUN WEB SITE
###