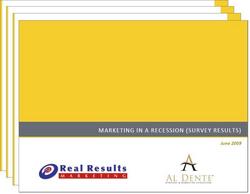 A 60 percent variance in marketing expenditure between those spending more and those spending less is huge. I'd hate to be a business on the wrong side of that equation.
Orlando, FL (Vocus) July 14, 2009
The new "Marketing In A Recession" report brings to light divergent approaches on how to produce "bang for your buck" during these economically challenging times. The report includes information on activities as diverse as innovation and product development, pricing and product discounting trends, along with a host of other insightful findings, and is available now as a free download from the Al Dente website.
What key findings does the report highlight? How are rival marketers spending their budgets and what do businesses need to do to remain competitive, or even outshine their rivals?
42% of survey respondents said their companies are reducing marketing expenditures while 25% are spending more. But the real news is in the spend disparity. While organizations cutting marketing spending are slashing budgets by 35%, those spending more have increased their budgets by 26%. Andy Martin, president of Al Dente Marketing and one of the study's authors, noted "A 60 percent variance in marketing expenditure between those spending more and those spending less is huge. I'd hate to be a business on the wrong side of that equation."
Focus on niches, introducing new products and services, emphasis on database analytics, market research metrics and shifting spend towards low-cost and measurable marketing activities are just some of the actions recommended by marketing executives surveyed in June.
Ian Heller, president of Real Results Marketing, noted, "If there has ever been a time to be good at segmentation and take into account macro variables like industries and geographies, now is the time; you've got to pick winners."
The report was compiled from 188 respondents, and provides detailed answers along with revealing verbatim comments. "Historical data tells us that companies who continue to market aggressively during recessions come out ahead of their competition when the economy moves into recovery" said Mr. Martin. "It is important for business leaders to understand how the competition is dealing with marketing in this challenging economy and to leverage that knowledge effectively."
The complete report is now available to download. Simply visit the Resources page of the Al Dente website to view the full report and to take advantage of other free marketing tools including a variety of online marketing quizzes and assessments.
About Al Dente Marketing
Al Dente Marketing is a high-octane marketing consulting firm providing solutions that ignite aggressive revenue and profit growth. Everything we do is geared to help clients sell more, to more customers, more often. We recognize that results matter, and the rest while interesting, is academic. As our name implies, Al Dente provides just the "right amount" of analysis, innovation and execution to drive performance.
Our expertise comes from our ability to adapt world-class, Fortune 500 techniques to entrepreneurial and mid-sized firms. We are not career consultants. Our marketing and insights practitioners have track records of building brands, products, and services to create breakthrough outcomes across diverse industries and cultures.
About Real Results Marketing
Real Results Marketing is a consulting firm specializing in strategic planning, marketing planning, sales force optimization and market intelligence and research. Founded in 2003, Real Results Marketing has helped dozens of clients improve their business results by applying cutting-edge analytics, a sound, process-based approach to business solutions and the experience of our thoroughly-trained and classically educated consultants.
###