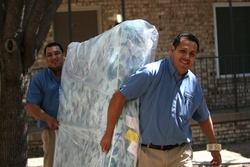 At the heart of our business is a commitment to providing comfort to D/FW families in crisis, and we hope that with this donation we can give the gift of a restful night's sleep for Ronald McDonald House of Dallas families
Dallas, TX (PRWEB) July 15, 2009
Sleep Experts is donating the 120 mattress sets needed to fill the new 60,000 square-foot Ronald McDonald House of Dallas set to open in late 2009. The significant donation from the family-owned mattress retailer is valued at $115,000 and is supported by Simmons and Sleep Designs.
Sleep Experts has also named RMHD the beneficiary of its Christmas in July drive and is asking the D/FW community to drop off donations of wish list items--including toiletries, office and kitchen supplies--toys and gift cards at any of its 34 mattress stores through the end of July. The RMHD wish list is available at rmhdallas.com
Barbara McDermott, executive director of Ronald McDonald House of Dallas said, "We are truly grateful of Sleep Experts' generous donation of these mattress sets, which will allow our families even more comfort when they are staying with us at the new house. The donations they will be collecting at the stores this month will also allow us to help even more families in need."
"At the heart of our business is a commitment to providing comfort to D/FW families in crisis, and we hope that with this donation we can give the gift of a restful night's sleep for Ronald McDonald House of Dallas families," said Christine Cook, wife, mom and president of Sleep Experts. "We ask the D/FW community to join us in the 'Spirit of Giving' and welcome these families to their new home-away-from-home with an early gift during our Christmas in July event."
The new 60-room house under construction in the Southwestern Medical District will double the current capacity of the Ronald McDonald House of Dallas so that more families can benefit from a home-away-from-home to serve and sustain them while their seriously ill children receive treatment from a Dallas hospital.
Sleep Experts supports the D/FW community through partnerships with more than 20 area nonprofit organizations that nurture and care for children and families in crisis. Through its Rest Assured program, every time a customer buys a new Sleep Experts mattress, the company recycles the old mattress and donates it to one of these organizations. To date, Sleep Experts has provided more than 6,000 beds to the community and donated over $400,000 in recycled mattresses, resulting in over a million nights of sleep for thousands of families in need.
About Ronald McDonald House
Established in 1981, the Ronald McDonald House of Dallas has served as a home-away-from-home for more than 26,000 families of seriously ill children who have traveled to Dallas seeking medical treatment in area hospitals. By providing a caring, supportive, home-like environment, the Ronald McDonald House of Dallas keeps the family intact and helps allow a family to establish a normal routine in the midst of crisis. It also provides families with the opportunity to share their concerns with other families in similar circumstances. The organization is currently building a new House, which will double its capacity and will open in late 2009. For more information, please contact the Ronald McDonald House of Dallas at 214.631.7354, or visit the website at http://www.rmhdallas.com.
About Sleep Experts
Sleep Experts, a mattress retailer with 34 locations in the Dallas/Fort Worth Metroplex, offers a broad selection of innerspring mattresses, foam mattresses and air mattresses, with brands including Simmons, Beautyrest, Back Supporter, Tempur-Pedic, ComforPedic, Sleep Designs and Air Number. Sleep Experts is the recipient of the 2009 Greater Dallas Business Ethics Award and the 2009 Consumers' Choice Award®, and has been voted a Dallas Business Journal Best Place to work in D/FW. Through its Rest Assured community program, Sleep Experts recycles customers' old mattresses and donates them to non-profit organizations serving families in crisis. For more information, visit http://www.sleepexperts.com or call (888) 55-SLEEP.
# # #