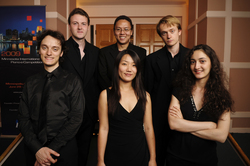 We have been very fortunate this year in seeing to a close another great chapter in the history of e-Competition
Minneapolis, MN (Vocus) July 15, 2009
Alessandro Taverna, a 26-year-old from Italy, was named First Prize winner of the fourth Minnesota International Piano-e-Competition in Minneapolis. As winner, Taverna will receive a cash prize of $25,000 and a Yamaha DC3M4 Pro 6'1" Disklavier polished ebony grand piano.
Pavel Yeletsky, from Belarus; Helene Tysman, from France; Eric Zuber and Howard Na from the United States; and Grace Eun Hae Kim, from South Korea, were the five other finalists who emerged from the competition's earlier rounds.
In addition to his cash prize and piano, Mr. Taverna will embark on a prestigious recital tour including a Fall 2009 debut recital in New York City, sponsored by Yamaha Corporation of America and a CD release on the Ten Thousand Lakes label. The six finalists performed in quintet rounds at Sundin Music Hall, Hamline University on Monday, July 6 and also played concerto rounds with the Minnesota Orchestra at Orchestra Hall on July 9 and 10.
"We have been very fortunate this year in seeing to a close another great chapter in the history of e-Competition," says Yamaha Artist Services Director James Steeber. "And in Alessandro Taverna we have not only a great musician but a gracious one. I look forward to further involvement in his career as we continue on."
The distinguished jury for the 2009 Recital and Final Rounds in Minneapolis – St. Paul was chaired by Alexander Braginsky of the United States and included David Dubal, Akiko Ebi, Gabriel Kwok, Nikolai Petrov, Jerome Rose, Jeremy Siepmann and Arie Vardi. Visit the International Jury web page to read their bios.
Audition recitals and final round performances are available for the general public to download as MIDI files onto their own computers, or on their own Disklavier pianos, from the Piano-e-Competition home page. To learn more, visit http://www.piano-e-competition.com. For a multimedia presentation on the competition and how it works, visit http://www.piano-e-competition.com/ecompetition/howitworks.asp.
About the Minnesota International Piano-e-Competition:
At invitation-only screened auditions held in Beijing, Paris, Los Angeles, Moscow and New York City, 71 young pianists – chosen from an unprecedented number of applicants from around the world – entered their digitally videotaped and recorded MIDI performances on Yamaha Disklavier Pro concert pianos.
In early February, a six-member screening panel judged the contestants' performances using another Disklavier Concert Grand piano and a large projection video screen at Yamaha Artist Services in New York. In late June, 24 finalists traveled to Minneapolis for the live Preliminary Rounds, including a Recital Round and Schubert Sonata Round.
For more information, write Yamaha Corporation of America, Piano Division, P.O. Box 6600, Buena Park, CA 90622, telephone (714) 522-9011, email infostation (at) yamaha.com or visit http://www.yamaha.com.
###