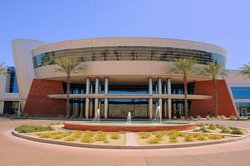 Level 3's highly scalable network has made them one of our ideal providers as our customers' bandwidth demands continue to grow
Broomfield, CO (PRWEB) July 14, 2009
Level 3 Communications, Inc. (NASDAQ: LVLT) today announced that it is expanding its relationship with i/o Data Centers, an Arizona-based provider of enterprise colocation and data center solutions.
Under the terms of the agreement, Level 3 will continue to provide private line and Ethernet-based high-speed Internet services to i/o Data Centers' Scottsdale ONE colocation facility. With this expanded deal, Level 3 is installing a fully redundant fiber connection to i/o Data Centers' newest Phoenix colocation facility, Phoenix ONE, over which it will deliver the same high-speed services.
Level 3's network allows i/o Data Centers to deliver to its customers network connectivity up to 10 Gbps - enough capacity to transport 128 simultaneous high-definition video downloads per second - supported by Level 3 service level agreements. Additionally, this direct connection of i/o Data Centers' colocation customers will eliminate backhaul charges normally paid to the incumbent service provider and increase the cost-effectiveness of network solutions provided by Level 3.
"Level 3's highly scalable network has made them one of our ideal providers as our customers' bandwidth demands continue to grow," said Anthony Wanger, io Data Centers' president and founder. "Our customers are looking for reliability and performance and Level 3 is helping us deliver just that."
"It's no secret that the burgeoning usage of video and multimedia applications is driving bandwidth demand, and Level 3's network is prepared to meet that demand," said Jeff Tench, president of Level 3's Business Markets Group. "We will continue to seek opportunities to expand our fiber-optic footprint, because, quite simply, businesses benefit from being directly connected to the Level 3 network."
Level 3's Business Markets Group leverages the power of the company's extensive fiber-optic network, metro assets, and locally focused sales and sales support organization to deliver a world-class experience to enterprise customers throughout the United States.
About i/o Data Centers
i/o Data Centers is the premier provider of enterprise colocation and data center solutions. Based in Arizona, i/o Data Centers designs, builds and operates highly reliable and green data centers for some of the world's largest corporations and web properties. i/o Data Centers offers a variety of innovative and flexible colocation solutions including colocation cabinets, colocation cages, data center suites and containerized data center solutions. For more information on i/o Data Centers visit: http://www.iodatacenters.com
About Level 3 Communications
Level 3 Communications, Inc. (NASDAQ: LVLT) is a leading international provider of fiber-based communications services. Enterprise, content, wholesale and government customers rely on Level 3 to deliver services with an industry-leading combination of scalability and value over an end-to-end fiber network. Level 3 offers a portfolio of metro and long-haul services, including transport, data, Internet, content delivery and voice. For more information, visit http://www.Level3.com.
Level 3 Communications, Level 3, the red 3D brackets and the Level 3 Communications logo are registered service marks of Level 3 Communications, LLC and/or its affiliates in the United States and/or other countries. Level 3 services are provided by wholly owned subsidiaries of Level 3 Communications, Inc. Any other service, product or company names recited herein are trademarks or service marks of their respective owners.
Forward-Looking Statement
Some of the statements made in this press release are forward looking in nature. These statements are based on management's current expectations or beliefs. These forward looking statements are not a guarantee of performance and are subject to a number of uncertainties and other factors, many of which are outside Level 3's control, which could cause actual events to differ materially from those expressed or implied by the statements. The most important factors that could prevent Level 3 from achieving its stated goals include, but are not limited to, the current uncertainty in the global financial markets and the global economy; disruptions in the financial markets that could affect Level 3's ability to obtain additional financing; as well as the company's ability to: successfully integrate acquisitions; increase the volume of traffic on the network; defend intellectual property and proprietary rights; develop effective business support systems; manage system and network failures or disruptions; develop new services that meet customer demands and generate acceptable margins; attract and retain qualified management and other personnel; and meet all of the terms and conditions of debt obligations. Additional information concerning these and other important factors can be found within Level 3's filings with the Securities and Exchange Commission. Statements in this press release should be evaluated in light of these important factors. Level 3 is under no obligation to, and expressly disclaims any such obligation to, update or alter its forward-looking statements, whether as a result of new information, future events or otherwise.
###