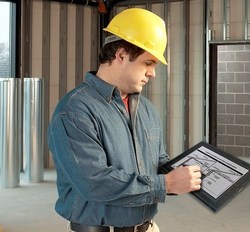 Combining the power of Motion Tablet PCs with tablet-optimized software solutions is the most effective way to help mobile professionals get the most value out of their mobility investments
Rockville, MD (PRWEB) July 15, 2009
IDEAL, developer of large format document management software, including web-based subscription and enterprise solutions for architects, engineers and construction, and Motion Computing®, a leader in mobile solutions for professionals in industries including healthcare, government, and field force automation, announced today that the companies' combined solutions promote green, paperless workflow within the construction industry.
Motion®'s enhanced line of tablet PCs and IDEAL's patented planroom technology for viewing and distribution of large format documents will help construction companies rely more on digital documents, helping to save substantially on printing costs, conserve natural resources, and speed the communication of job-site revisions.
IDEAL's planroom technology will be available on a subscription basis as IDEALscanroom.com and will be available through Motion Computing's reseller channel. IDEALscanroom incorporates all of the familiar features of IDEAL's planrooms, including bid management, email notifications, redlining, archiving of as-builts, and, new in Scanroom, the ability for contractors to create a revenue center, by offering permission-based chargeable digital downloads.
"Rather than paying for printing, for the first time, contractors are empowered to charge for digital downloads, so they not only save money on printing costs, but can also make money on the downloads," says Jay Magenheim, president of IDEAL. "And, because the construction drawings can be viewed prior to download, there will be less printing over-all, so trees will be saved, and the environment will be protected. This is a win-win for all parties."
"Combining the power of Motion Tablet PCs with tablet-optimized software solutions is the most effective way to help mobile professionals get the most value out of their mobility investments," said Mike Stinson, VP of Marketing, Motion Computing. "We are excited to help make IDEALscanroom available to our construction customers and are confident that they can revolutionize the way they work through the use of advanced mobile technologies."
For more information on Motion Computing visit http://www.MotionComputing.com or sales at MotionComputing dot com. For information on IDEAL Scanroom, contact sales at ideal dot com.
About IDEAL
IDEAL.com provides a wide range of large format scanning, printing, indexing, archiving, converting and editing services for the AEC, GIS and Reprographics and other markets. IDEAL's Document Management Solution and Online PlanRoom offers customers a secure, web-based centralized location to archive scanned drawings, participate in bid opportunities and provide digital downloads. For more information on IDEAL products and services, call 301-468-2050 or visit http://www.ideal.com.
About Motion Computing
Motion Computing is a mobile computing and wireless communications leader, combining world-class innovation and industry experience so professionals in vertical industries such as healthcare, field sales and service and government can use computing technology in new ways and places. The company's enhanced line of tablet PCs, mobile clinical assistants and accessories are designed to increase productivity for on-the-go users while providing portability, security, power and versatility. Motion combines those products with services and unique vertical market knowledge to deliver robust solutions - platforms, peripherals, services and wireless - customized for the needs of a particular industry. For more information, visit http://www.motioncomputing.com.
###