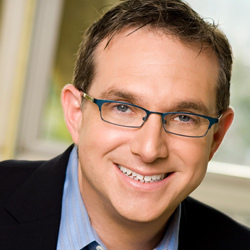 Consultative Staffing & Recruiting Strategies for HR Generalists
Capitola, CA (PRWEB) July 15, 2009
Total Picture Radio host and producer, Peter Clayton interviewed recruiting and staffing industry expert Jeremy Eskenazi, managing principal of Riviera Advisors at the recent Society of Human Resource Management Annual Conference in New Orleans. The SHRM event is the largest gathering of the year for HR professionals and recruiters. Speaking at the conference on "Consultative Staffing & Recruiting Strategies for HR Generalists," Eskenazi told Clayton, "Obviously, most of my clients now are in a difficult time; they're laying off people but at the same time, they're trying to hire people. Those people that they're trying to hire are critical to the organization."
Eskenazi tells Clayton, "Employed people are not willing to make a change. If they're in a job right now... and they've been there for a couple of years why, if anything, would they want to quit that job and move to your company where they are the low person on the totem pole?" Adding to this mindset is the issue of relocation. Eskenazi continues, "In this country, in the US, it's very difficult to get someone to relocate across the country, across the county, across the city; people can't sell their houses, companies are having difficult times getting people to make relocation moves."
Adding to these recruiting challenges is the fact that most companies have laid off their recruiting specialists, moving the function to HR, which in many cases has suffered staffing cutbacks as well. "When a requisition is open now, it's even more critical to find the right person. That typically means that we have to have a lot more time and energy focused on specialized recruiting when, in fact, we may have laid off a large number of recruiters." The result: "Recruiters may have a larger number of requisitions and harder to fill positions," according to Eskenazi.
"In our business, we're doing a lot more training and development now of HR generalists and teaching them how to be more effective recruiting and staffing professionals." Eskenazi said. "So the trick is to create more of a relationship management skill and that's where HR generalists, or all HR people, can really improve their skill set. Recruiting and staffing is all about relationship management; it's not some kind of magic."
Clayton asked Eskenazi how the rapid growth and media focus on social networks had impacted the staffing and HR industry. "I love Twitter, I love Facebook, I love LinkedIn," he responded, "As ways to connect with people. But at some point, at some time, somewhere, somebody has to actually pick up a phone and talk to somebody on the phone live. Face to face is going to be an interviewing process that we're not going to get away from. And in fact, I see more and more companies adding more layers of interviewing and assessments."
You can find the 30 minute podcast with Jeremy Eskenazi in the Inside Recruiting Channel of Total Picture Radio, http://www.totalpictureradio.com , along with a complete transcript of their interview. Total Picture Radio is also available on iTunes.
About Riviera Advisors:
Riviera Advisors is a premier global human resources consulting firm that specializes in helping organizations develop stronger internal recruiting and staffing capabilities.  Working with organizations across virtually every industry, from start ups to Fortune 500s, Riviera Advisors blends an unparalleled and real-world depth of experience with specific expertise in the critical area of Talent Management.  Riviera Advisors offers its clients a number of cutting-edge services including: recruitment process and organizational design; staffing, planning and strategy; and recruitment related training.  Founded in 2001 and based in Long Beach, California, USA, Riviera Advisors has representatives in Chicago, Illinois, Dallas, Texas, and Boston, Massachusetts, serving a global client base. Riviera Advisors also manages the STARoundtable, Strategic Talent Acquisition
Roundtable, a networking, best practices and benchmarking community for corporate recruiting and staffing leaders. Riviera Advisors is a proud member of the ASHER Talent Alliance.
This press release was distributed through eMediawire by Human Resources Marketer (HR Marketer: http://www.HRmarketer.com) on behalf of the company listed above.
###