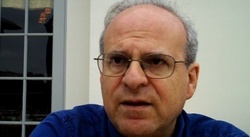 The power of the Internet comes from the ability to create solutions by focusing only on the end-points and not concentrating everything in the middle
San Francisco, CA (PRWEB) July 15, 2009
Pioneering software innovator Bob Frankston says there will be an explosion in the innovation of user-based Web technologies once we eliminate impediments and unnecessary start-up costs for small entrepreneurs and begin rewarding companies for expanding Internet capacity instead of limiting it.
A video interview with Frankston discussing the significance of post-telecom connectivity is featured on IdeasProject, a website developed by Nokia. IdeasProject is an online "information space" that provides a new way to interact with thought leaders and their big ideas about the future of connected communications. For more on Frankston's big idea, visit: http://www.ideasproject.com/idea_person.webui?id=4401
"The power of the Internet comes from the ability to create solutions by focusing only on the end-points and not concentrating everything in the middle," said Frankston. "With the Internet, we don't need a phone carrier in the middle, but because of misdirected public policy, a great deal of confusion exists among consumers who say they want more telecom but in actuality want more Internet connectivity."
"Frankston points out how inefficient Internet delivery has been to the average consumer," said Valerie Buckingham, Director of Technology Marketing, Nokia. "For Frankston, it is about entering a new age where companies are rewarded financially by providing more Internet capacity, rather than less. We look forward to sharing more of Frankston's provocative thoughts on Internet delivery in the post-telecom age on IdeasProject."
Over the next several months, editors from the IdeasProject are featuring their favorite ideas as submitted by the public and sending a Nokia N95 to the 'Big Thinker' who contributed. Share and submit your 'Big Idea' with the world by visiting http://master.ideasproject.com/userideasubmit.webui
About Bob Frankston
Robert (Bob) Frankston is the co-creator with Dan Bricklin of the VisiCalc spreadsheet program and the co-founder of Software Arts. In his work with companies such as Microsoft, Lotus, and Slate, Frankston developed and implemented advancements to systems for networking, mobility and enhanced connectivity. In his earlier tenure in the computer research division at White-Weld (later known as Interactive Data Corporation), Frankston developed tools on their own version of IBM's VM system, including an interactive debugger and a VM-based mail system. Frankston is a multi-degree graduate of the Massachusetts Institute of Technology and was honored with that institution's William L Stewart Award for co-founding the Student Information Processing Board to provide computer access to students. Among his other awards are PC Magazine's Lifetime Achievement Award, Esquire Magazine's The Best of the New Generation, The Western Society of Engineers' 2001 Washington Award, and the IEEE Consumer Electronics Society International Chapters Engineering Excellence Award.
About IdeasProject
IdeasProject, a project of Nokia hosted at http://www.ideasproject.com, brings together the most visionary and influential "big thinkers" to contemplate the big ideas that matter most to the future of communications. It is a new kind of conversation platform aimed at uncovering the connections between these thought leaders and their disruptive ideas. Explore the IdeasProject website, subscribe to its RSS feed, join its Twitter feed (IdeasProject), and come back often to learn about great new big ideas as they break.
About Nokia
Nokia is the world leader in mobility, driving the transformation and growth of the converging Internet and communications industries. We make a wide range of mobile devices with services and software that enable people to experience music, navigation, video, television, imaging, games, business mobility and more. Developing and growing our offering of consumer Internet services, as well as our enterprise solutions and software, is a key area of focus. We also provide equipment, solutions and services for communications networks through Nokia Siemens Networks.
###