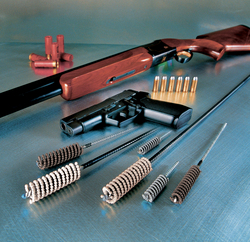 Torrance, CA (PRWEB) July 15, 2009
The Flex-Hone® tool from Brush Research Manufacturing is a great way to improve the function and extend the life of firearms. With this flexible honing tool, the metal surfaces of your firearm will not only have a beautiful finish, but will be free of the microscope "peaks" and "valleys" that can affect the performance and life of the firearm.
Developed by Brush Research, the ball-style Flex-Hone tool is characterized by small, abrasive globules that are permanently mounted to flexible filaments. This gun honing tool is used to quickly and easily produce the optimum plateau surface finish in any type or size cylinder, slide, chamber, magazine tube or smooth bore barrel.
The plateau finish produced by the honing tool removes the peaks and reduces surface tension by removing highly stressed areas. The valleys produced by the Flex-Hone improve the surface's ability to hold oil and eliminates the "stick-slip" phenomena promoting smoother ejection. As a result, many firearm manufacturers are selecting the Flex-Hone for their final finish requirements.
The tool produces this finish with a minimum of stock removal, ensuring that the bores of your firearm remain at the precise dimensions required. The honing tool is easily used in any hand drill or rotating spindle and is self-centering and self-aligning to the bore.
Brush Research Manufacturing makes a complete line of Flex-Hone tools for a variety of firearms applications:
Shotgun Barrels
Any smooth bore on your firearm can benefit from a quick honing, including the barrel bore on your shotgun. By using a barrel hone tool you can quickly, safely and thoroughly clean out any damage that has occurred from oxidation and corrosion, blend out scratches and remove the nicks and pits that cause plastic adhesion.
A barrel hone will produce a smooth finish that will prevent plastic from building up as quickly in the future. The abrasive globules on flexible nylon filaments remove the built up residue and leave a superior surface resulting in greater accuracy, reduced wear and longer life for your shotgun.
The honing tool was recently featured in Shooting Times Magazine by Reid Coffield. A link the article is at: http://www.shootingtimes.com/gunsmithing/0406/
Cylinders and Chambers
Emptying and reloading your firearm will be much smoother and easier after using the Flex-Hone in the cylinders and chamber. The improved finish will allow the rounds to "fall" from the cylinder with ease, and eject smoothly from your chamber. Reloads will enter quickly and smoothly and eliminate brass scarring. A Flex-Honed bore will enable you to reload your brass more often and with less work.
Slides and Magazine Tubes
The Flex-Hone tool can be used on any type or size of cylinder and is not limited to barrels and chambers. Flex-Honing the slide on automatic pistols and the magazine tubes of shotguns and rifles will provide the benefit of a smooth, long wearing surface.
Established in 1958, Brush Research Manufacturing has been solving difficult finishing problems with honing tool technology for a variety of industrial applications for over 50 years.
For more information, contact Brush Research Manufacturing, Brush Research Mfg. Co., Inc., 4642 East Floral Drive, Los Angeles, CA 90022; Phone: (323) 261-2193; Fax: (323) 268-6587; or visit the web site: http://www.brushresearch.com
###