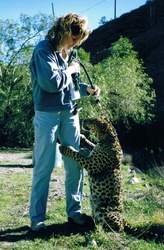 urging pet guardians and veterinarians to discontinue the practice of declawing cats in the City and County of San Francisco.
San Francisco, CA (PRWEB) July 15, 2009
The San Francisco Commission of Animal Control and Welfare voted 5-1 Thursday evening to recommend that the Board of Supervisors adopt an ordinance to prohibit declawing of cats for non-therapeutic reasons. In 2003, the Board passed a resolution "urging pet guardians and veterinarians to discontinue the practice of declawing cats in the City and County of San Francisco."
Drs. Jennifer Conrad and Jim Jensvold of The Paw Project, a nonprofit animal advocacy organization, testified in favor of the ban. "Declawing can result in lameness and other physical problems. It can also lead to litter box avoidance and biting, behavioral problems that can result in pets being abandoned at animal shelters," said Dr. Jennifer Conrad, director of The Paw Project and a practicing veterinarian.
Several other members of the public testified in favor of a declaw ban. The sole opponent was San Mateo veterinarian Chris Cowing, representing the California Veterinary Medical Association, who testified that he earns $400 dollars for each declawing procedure he performs.
The commissioners raised the question whether declawing might become necessary for cats in the households of immunocompromised persons, and whether such individuals might be more susceptible to infections from cat scratches. The commissioners heard testimony that infectious diseases specialists and epidemiologists did not recommend declawing to protect the health of HIV-positive and others with weakened immune systems. According to testimony given, such individuals were at greater risk of infection from cat bites or from cat feces.
Commissioner Philip Gerrie recommended that San Francisco adopt the language of an anti-declaw ordinance passed in West Hollywood in 2003. His motion was supported by the entire commission, with the exception of veterinarian commissioner, Dr. David Gordon. The West Hollywood law was sponsored by The Paw Project and introduced by West Hollywood City Councilmember John Duran.
The findings of the West Hollywood ordinance state that the "mere convenience (of declawing) to the pet's guardian does not justify the unnecessary pain, anguish and permanent disability caused (to) the animal.'' The measure makes it illegal to perform declawing within city limits, except for therapeutic purposes such as removal of infected or injured tissue.
Declawing involves removing not only the claw, but also all or part of the last bone and connecting tendons and ligaments on a feline's paw. Animal advocates say the procedure is cruel and unnecessary. Declawing is classified as "mutilation" by the Royal College of Veterinary Surgeons in the UK. It is illegal or considered unethical in many countries around the world.
While some California veterinarians oppose declawing, their trade group, the California Veterinary Medical Association, filed suit against West Hollywood to overturn the law in 2005. In a 2-1 ruling in June 2007, the Court of Appeal upheld anti-declaw ordinance, the only one of its kind in the nation. The San Francisco City Attorney's office filed legal arguments in support of West Hollywood.
The declawing of wild and exotic cats is already illegal in California as the result of AB 1857, the Paw Project-sponsored bill authored by former Assemblyman Paul Koretz and signed into law by Governor Arnold Schwarzenegger in September 2004.
"Declawing is no less cruel because it is labeled a common veterinary procedure. In fact, it is more cruel because veterinarians, of all people, should know better," stated Conrad. "If passed, the ordinance will spare animals the crippling pain and misery too often caused by declawing, which would be a major victory for the animals and those who care about them."
For more information, please visit pawproject.org or contact Paw Project director Dr. Jennifer Conrad at 310-795-6215 or Sally Stephens, Chair San Francisco Commission of Animal Control and Welfare.
###