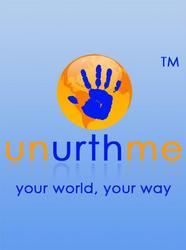 Win a new Apple iPod® touch and iTunes® gift card
Los Angeles, CA (PRWEB) July 16, 2009
The highly anticipated launch of Unurthme marks the beginning of the search revolution with a FREE way to Save, Sort and even Share Internet search results. To prove how simple and intuitive Unurthme is to use, the 2009 Launch is accompanied by an online contest to "Win a new Apple iPod® touch and iTunes® gift card" by unurthing (searching) as many times as possible and by spreading the word; Then invite friends, family, acquaintances, and even frenemies- including those from favorite social networking and bookmarking sites- to do the same. Promotion details are located at http://www.unurthme.com.
Founders/Partners Ryan Hardy, CEO, and Dan Giulvezan, CTO, masterminded the concept as, "The world doesn't need another search engine; it needs a better way to search. And we ask everyone to imagine their lives easier . . . with a free way to Save, Sort and even Share your Internet search results - Unurth it! "
With offices in Los Angeles and Silicon Valley, they created Unurthme - a unique online entity designed to provide the smartest, most robust search capabilities available anywhere in the world. And the results come from YouTube, Amazon, and Hulu, in addition to traditional content, news, images, etc.
What makes Unurthme unique among tons of search engine choices is that the founders believed it was time for search to evolve. "We are not reinventing the wheel, just making it better. We provide users a familiar way of interacting with the Internet, yet from that, create an entirely new experience that is as easy to use as it is powerful. We also offer users free tools they need to save, organize and share anything on the Internet, and to access that information from anywhere in the world. They never have to just skim through page after page of results again."
This means that however users search for web pages, images, videos, products or anything else, they are finally able to save not only favorite links, but also a list of keywords used in their recent searches. Most notably, through Unurthme, users can create different categories to organize their search results in a highly personalized manner. Users are able to share any link or category with other unurthme users within the secure system, as well as with non-unurthme users via traditional email.
###