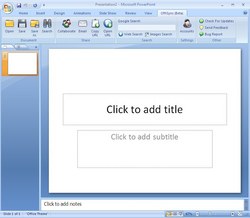 We believe in giving users choice when it comes to the way they use Google Apps and collaborate with cloud-based solutions
Seattle, WA (PRWEB) July 16, 2009
OffiSync, a software company focused on extending Microsoft Office with Google's™ cloud services, today announced the availability of its latest version that delivers on the vision of Software plus Service for all Microsoft Office versions. OffiSync enables Microsoft Office users to store and organize their documents and collaborate in real time through Google Docs™, and improve enterprise document management through Google Sites™.
OffiSync is a software extension to Microsoft Office that adds new functionality to Microsoft Word, Excel and PowerPoint. Once installed, OffiSync adds a new toolbar that lets users save and manage their Microsoft Office documents on Google's cloud. OffiSync also allows users to share documents using Google's collaboration engine, bringing the power of Google's cloud directly into Microsoft Office.
OffiSync is currently available for Windows versions of Office 2003, 2007 and soon 2010.
"We believe in giving users choice when it comes to the way they use Google Apps and collaborate with cloud-based solutions," said Jonathan Rochelle, Group Product Manager, Google. "We're happy to see OffiSync using Google Apps and APIs to help enterprise customers get the benefits of Google Docs and Google Sites alongside their existing desktop software today."
"Google Apps is a powerful communication and collaboration solution that is getting tremendous momentum in the enterprise" Said Ed Laczynski, CTO of LTech, a leading Google Enterprise partner "OffiSync is a powerful solution that will help us extend that momentum to customers that are not ready to let go of MS Office as their primary productivity suite by providing them a tightly integrated solution for collaboration and document management based on the Google Apps platform"
"Google Apps is a proven enterprise messaging alternative to Microsoft Exchange," said Eran Gil, VP Business Development at Cloud Sherpas, a leading Google Enterprise partner. "Combined with Google Docs and Google Sites, OffiSync enables businesses to also replace SharePoint for collaboration. This integrated solution has a strong value proposition in the enterprise."
OffiSync is currently offered as a free download from http://www.OffiSync.com
About OffiSync:
OffiSync is a privately held software company based out of Seattle Washington. The company focuses on extending Microsoft Office and other productivity applications with Google Cloud Services.
Google, Google Docs, Google Sites, Google Apps are all trademarks of Google, Inc.
# # #