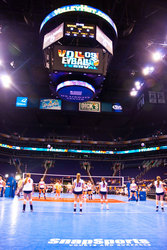 We are very pleased to have worked with the SnapSports team and to have players from around the world play on the SnapSports surface during our 26th year of the festival
Salt Lake City, Utah (PRWEB) July 17, 2009
SnapSports, the industry leading manufacturer and provider of premium modular sports surfacing and game courts, was the premier championship flooring for this year's Volleyball Festival championship games played in the US Air Arena in Phoenix, Arizona.
"We are very pleased to have worked with the SnapSports team and to have players from around the world play on the SnapSports surface during our 26th year of the festival," said Bernice Epperson - CEO of Festival Sports, Inc.
Every year since 1984, Festival Sports has put on the largest volleyball tournament in the world, Volleyball Festival. This year over 500 teams from around the world, consisting of girls ranging in age from 12-18 came together for 2 weeks to play thousands of games on hundreds of courts. "We can't express how thrilled we are to be apart of this world class event. To have our athletic surfaces chosen as the championship court for the Volleyball Festival tournament is a tremendous testament to the quality and high performance features of our sports flooring," said Jorgen Moller - CEO SnapSports.
The SnapSports surface the athletes competed on is the industry's most advanced suspended modular sports flooring. The BounceBack® ShockTower™ surface has multi-patent design features including the new ShockTower™, the resilient shock technology which offers excellent impact control and rolling support for added player safety and superior ball response.
About SnapSports
Located in Salt Lake City, Utah, SnapSports manufactures 24 hours a day, 7 days a week, 365 days a year in their 100,000 square foot facility. The family at SnapSports is proud of more than 30 years of experience in manufacturing & providing outdoor game courts and athletic sports surfacing globally. SnapSports has a world-wide authorized dealer network. Their experience and innovative product line has made them the fastest growing company in their industry.
For more information visit The SnapSports® website (http://www.SnapSports.com) or call 1-800-664-3865.
For more information about the Volleyball Festival, visit them on the web at http://www.volleyball-festival.com.
###