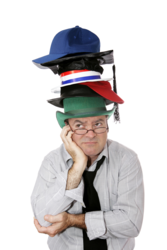 Being a business owner, you usually don't get the option of doing one thing
Glenview, IL (PRWEB) July 16, 2009
When times are tough, small business owners face more pressure to pick up the slack and find ways to do more with less. According to a recent survey conducted by online payroll provider SurePayroll, business owners are multi-tasking to address the challenges of the current economy, keep customers happy and keep their businesses running smoothly.
The survey found that 88 percent of small business owners think multi-tasking is now a key component in running a successful business that business owners should embrace.
"Being a business owner, you usually don't get the option of doing one thing," says survey respondent Lydia Rivera, Agent and Owner of Allstate Insurance Company in Georgia. "You wear many hats. Whether it's checking email, correcting someone's hours, paying bills, answering the phone, running a quote and writing business ... I have to do it all with patience and give each task my full attention and accuracy. Somehow I pull it off and it's become what I am used to doing."
Indeed, 56 percent of respondents indicated that they often handle three or more tasks simultaneously. SurePayroll attributes the increasing tendency to multi-task to current economic conditions that force businesses to produce the same output levels with fewer resources.
"Business owners we talk with are doing everything they can to weather the storm, and that includes working on more and more projects simultaneously to ensure their businesses stay in top form," says SurePayroll President Michael Alter. "With job cuts at record highs, like it or not, multi-tasking is essential these days, and business owners must be proficient multi-taskers."
Multi-Tasking Hinders Work Quality and Productivity for Some Business Owners:
Despite the widespread acceptance of multi-tasking, one in four small business owners report that multi-tasking in some way hinders their working ability. Multi-tasking skeptics cited everything from decreased quality in work, tasks taking longer than in the past and becoming burned out more quickly:
---- "I am able to multi-task and do it only when it's absolutely necessary. I find I am far more productive when I am focused on getting tasks done one by one."
---- "As it's generally impossible to do two things at the exact same time, multi-tasking usually involves switching back and forth between multiple tasks. Every time I switch, it takes time to re-orient to the new task, which ultimately slows everything down."
---- "I find it extremely difficult to multi-task and make mistakes in almost everything when I try to do so. I also waste time cycling between various projects so I only work on one thing a time now."
---- "Two tasks are my limit. Quality suffers if my focus is diluted. If focus is diluted the task may have to be done again, wasting time."
How Business Owners Can Ease the Multi-Tasking Pressure:
According to Alter, business owners can avoid feeling overburdened with tasks by getting organized and finding ways to eliminate unnecessary processes. Instead of going out alone and trying to be everywhere at once, Alter suggests these methods for cutting down workload stress:
----Make a Prioritized List - The easiest way for multi-tasking to hurt business efficiency is completely skipping over tasks. A simple list with prioritized tasks will help owners stay on track. Keeping employees privy to what the owner feels are the priorities, and correspondingly assessing what projects are and are not working, will help manage the workflow.
---- Outsource Business Operations - Many business owners manage their own payroll, employee hour logs and other tasks that, while necessary to the business, demand a lot of time and energy. SurePayroll offers several affordable business solutions, such as payroll services and time clock integration that can help owners reduce the length of their to-do list.
---- Take Advantage of Down Time - Never taking a break from the business is a guaranteed way to feel burned out. When the opportunity presents itself, make sure to kick the feet up and relax instead of worrying about the business or feeling guilty. You'll feel more recharged after doing so, and you'll be ready to tackle some of the more time-demanding tasks later on.
---- Let Others Help - Business owners should avoid feeling the need to go over every single detail of the business's daily operations. Hiring top talent that an owner can trust to run elements of the business is crucial to success. SurePayroll recently rolled out a new suite of affordable pre-employment screening product offerings that cater specifically to the needs of small business owners and can help ensure that owners only hire the best applicants.
"Allowing yourself to get burned out by taking on too many tasks is a sure-fire way to hurt your business," says Alter. "Now more than ever, business owners need to reexamine their business processes to eliminate inefficiencies and make some small investments in tools that will help alleviate their to-do list. This will allow them to focus on often overlooked elements of their business that may help make it more profitable."
About SurePayroll:
SurePayroll is the online alternative to ADP and Paychex. SurePayroll's service and team members are dedicated to providing an easy, convenient online payroll service at a price small business owners can afford. Tens of thousands of customers rely on SurePayroll to process payroll wherever they want in as few as two minutes.
In addition, SurePayroll offers small businesses solutions for managing 401(k) plans, health insurance, workers' compensation, HR compliance and employee screening. For accountants and banking partners, SurePayroll provides private-label services that enable them to offer payroll processing to their small business clients.
Over the last decade, SurePayroll has received numerous prestigious awards for its innovative technology and outstanding customer service, including recognition from PC Magazine, Inc. 500, Accounting Today, the Stevie Awards and many others.
For more information, you can visit http://www.surepayroll.com, call 877.954.7873 or follow us on http://twitter.com/SurePayroll.
# # #