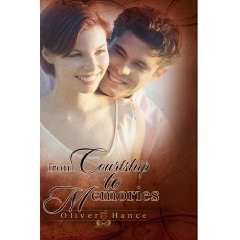 Most all of the information in this book has come from experiences. I have been involved in a lot of activities from which I have reaped experiences. Many of them are recorded in my book.
(Vocus) July 16, 2009
From courtship to marriage, marriage to children, children to sickness and sickness to death, Oliver wrote about his loving memories of Jeanette and the time they shared together. With the help from a journal he had kept over the years, Oliver was able to put his feelings, as well as accurate information, of all the experiences they shared in their life together in his book, "From Courtship to Memories."
Oliver and Jeanette were a very happy, and involved couple. They enjoyed their marriage of 56 years, and all the memories they had made together. They were devoted to the church, volunteered their time to helping those who asked for it, and had a very healthy hand in their community. Unfortunately, all good things come to an end.
In the year of 2001, Jeanette fell ill and became hospitalized in 2006. During this time, Oliver was inspired to write about their life together. She was diagnosed with tardive dyskensia, an incurable disease, and died from it. Though, that was not the end of all things. Oliver used the time he had spent with Jeanette to share with others who could value the kind of things that he had to share.
"Most all of the information in this book has come from experiences. I have been involved in a lot of activities from which I have reaped experiences. Many of them are recorded in my book." - Oliver Hance
Author prefers to be contacted by phone only. For more information call Oliver Hance at 713-816-2571
For more information on the book, visit his website at http://www.courtshiptomemories.com
###