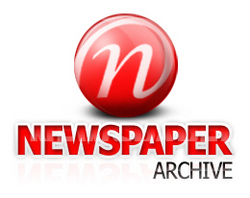 We are proud to be able to distribute this historic military publication
Cedar Rapids, Iowa (PRWEB) July 17, 2009
Stars and Stripes, the daily independent news source for the U.S. military community, has partnered with Heritage Microfilm to digitize and make its entire microfilm archive available online. This partnership, which also includes microfilm preservation of Stars and Stripes newspapers, gives libraries, historical societies, educational institutions and individuals online access to more than one million pages of historic newspaper content never before available.
"We are proud to be able to distribute this historic military publication," said Jeff Kiley, General Manager of Heritage Microfilm. "Researchers across the globe will now have access to Stars and Stripes, which has been reporting on major headlines from the front lines continuously since World War II. The newspaper's archive offers readers a global perspective on events that shaped the world's history, such as the Vietnam War, the moon landing, the fall of the Berlin Wall and much, much more. Stars and Stripes is a wonderful research tool for historians and genealogists, containing a wealth of information about American service members and the events which shape their history."
The archive is the culmination of nearly two years' worth of work assembling the best microfilm of the Stars and Stripes collection available, scanning it into digital form, inspecting each image for irregularities and quality issues, correcting any problem images, and building a fully-searchable digital archive website.
The fully-searchable online digital archive, now available at http://starsandstripes.newspaperarchive.com, includes Stars and Stripes European editions and Pacific editions from 1948 to 1999. More content will be added on an ongoing basis, including the World War II era, the full Middle East edition and an expanded date range for the European and Pacific editions.
"To be able to share this historic content with those who serve in uniform and their families is something we've been working for years to achieve," said Max D. Lederer, Jr., publisher of Stars and Stripes. Lederer went on to praise the library staff whose devoted efforts made the project a success. "Without Charlene Neuwiller, Kat Giordano, Lili Vivanco and the talents of the Heritage team, it's difficult to imagine getting over a million newspaper pages into digital form," Lederer said.
Content from Stars and Stripes is also featured on NewspaperARCHIVE, located at http://www.newspaperarchive.com. The Stars and Stripes collection is integrated into almost 100 million additional newspaper pages of valuable content from the U.S. and around the world, dating as far back as 1753.
About NewspaperARCHIVE
In 1999, Heritage Microfilm launched the brand NewspaperARCHIVE.com, the world's largest historical newspaper database online. NewspaperARCHIVE.com contains tens of millions of newspaper pages from 1759 to present, spanning almost 3,000 newspaper titles and 762 cities. Every newspaper in the archive is fully searchable by keyword and date making it easy to quickly explore historical content. Anyone interested in finding more information about Heritage Microfilm and NewspaperARCHIVE.com can visit http://www.heritagemicrofilm.com or http://www.newspaperarchive.com.
About Stars and Stripes
Stars and Stripes delivers independent news and information daily to the U.S. military community worldwide. Editorially independent of interference from outside its editorial chain of command, it provides commercially available U.S. and world news and objective, staff-produced stories relevant to the military community in a balanced, fair and accurate manner. Anyone interested in learning more about Stars and Stripes can visit http://www.stripes.com.
# # #