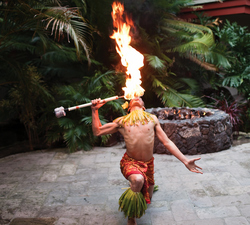 Truly the best Polynesian celebration on the mainland
San Diego, California (PRWEB) July 17, 2009
Every Friday evening this summer, The Catamaran Resort Hotel and Spa features fun and enjoyment for the entire family, celebrating Polynesian Culture with ethnic foods and entertainment.
This July, The Catamaran Resort Hotel and Spa kicked off its 9th Annual Summer Sunset Luau celebration on the shores of Mission Bay and will run every Friday evening through September 4th.
Featuring authentic pacific island food and entertainment amongst lush, tropical plantings and fiery tiki torches, this not to be missed classic Polynesian extravaganza is, "Truly the best Polynesian celebration on the mainland," Mike Staples, Catamaran General Manager. "Whenever you're at a Hawaiian luau, you are 'ohana -- family. We would love you to come join our 'ohana."
A time to share traditional foods, enjoy songs and dances of the Polynesian Islands and to give thanks to our family, friends, and guests from other lands and cultures. The Catamaran Resort Hotel and Spa's Luau will be the highlight of your summer in San Diego. Our Luau package includes lei, welcome Mai Tai, scrumptious Buffet, and hours of Polynesian entertainment.
The show runs from 6:00 to 9:00 pm and includes a sumptuous Polynesian menu that features roasted Kalua pig, grilled salmon, stir-fried vegetables, and a number of salads and tropical deserts to choose from. Tropical Tiki Bars serve exotic drinks such as mai tai's and pina coladas. Once the sunsets, the "Pride of Polynesia" performers take to the stage for an exciting evening of song and dance. Accompanied by traditional music, the dancers take guests through a musical tour of Polynesia - from captivating hulas to fiery torch dancing.
Named San Diego's Best Summer Luau, by San Diego Magazine. Luau prices are $ 58 for adults and $ 25.00 for children 5-12 under 5 free. Hotel guest rates are $35 for adults and $15 for Children. Tickets can be purchased at The Catamaran Resort Hotel, inside the gift shop, or at http://www.catamaranluau.com
For more information, please call: (858) 539-8666.
###