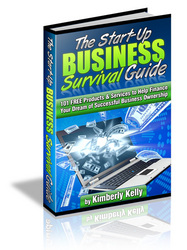 The Start-Up Business Survival Guide: 101 Free Products and Services to Help Finance Your Dream of Successful Business Ownership
Atlanta, GA (PRWEB) July 17, 2009
Small business loans are drying up, presenting new entrepreneurs with the challenges of finding alternative sources of business financing. As the survival of one of the nation's major small business lenders hangs in the balance, start ups are faced with the daunting task of exploring other funding options.
Many budding entrepreneurs are turning to bootstrap business financing, as an answer to the current credit crunch. According to Atlanta area Start Up Business Consultant Kimberly Kelly, bootstrapping is a process which employs creative self-funding strategies, without the need for big bank loans. In her new book ("The Start-Up Business Survival Guide: 101 Free Products and Services to Help Finance Your Dream of Successful Business Ownership"), Kimberly Kelly teaches on the subject of how to start a new business by bootstrapping.
As the current decline in small business loans continues to spur start ups to explore creative funding solutions, more and more "would be" business owners are investigating bootstrapping methods.
More About the eBook:
The Start Up Business Survival Guide is a step-by-step business start up manual, which focuses on bootstrap funding methods. It contains hundreds of free resources to aid budding entrepreneurs in finding business financing, without the need for small business bank loans. Each of the book's seven chapters guides you through the process for starting a new business -- without borrowing.
Chapter 1: Turning Your Passion into Profit
Chapter 2: Savvy Survival Secrets for Start-up Saving$
Chapter 3: Marketing 101
Chapter 4: Scavenge the Shores for Streams
Chapter 5: Converting Contacts to Customers
Chapter 6: Share Your Pot of Gold
Chapter 7: More Fabulous Freebies
About the Author:
Kimberly Kelly is a Certified Start-Up Business Consultant, specializing in cost reduction strategies. Through her eBooks and coaching services, she teaches the principals of bootstrap funding to brand new start ups.
For More Information, Contact:
Kimberly Kelly
Kelly Enterprise Company, LLC
244 Fifth Avenue, Suite 1910
New York, NY 10001
(845) 698-9146
http://www.StartUpBusinessSurvivalGuide.com
http://www.StartUpBusinessSuccess.com
###