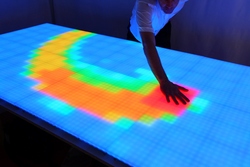 Our original Monochrome LED products made a big splash in the marketplace, we're expecting great things from our new full color product, there is just so much more that you can do with color
Brooklyn, NY (PRWEB) July 21, 2009
Sensacell Corporation (http://www.sensacell.com)] launches the HSI64-36-RGB module, a new addition to Sensacell's line of Modular Sensor Surface Technology.
The Sensacell system is ideal for creating interactive brand experiences, combine the almost magical 'touchless' sensing capabilities with stunning color LED graphics and video, you then have the perfect platform for creating truly immersive interactive applications. Architects and designers love the flexibility of the Sensacell system because it plays well with so many architectural materials and can be elegantly integrated into floors, walls, stairs, elevators, kiosks and furniture.
Sensacell combines LED lighting with capacitive proximity sensors in the form of "tile like" electronic modules that plug together forming architectural scale surfaces. Each module has an array of capacitive sensors that can detect persons and objects moving in proximity without physical contact- up to 150 millimeters/6 inches from the surface. The sensing system can also sense directly through solid materials; the modules can be installed behind translucent architectural materials for a completely integrated installation.
"Our original Monochrome LED products made a big splash in the marketplace, we're expecting great things from our new full color product, there is just so much more that you can do with color"- Sensacell CEO Joakim Hannerz.
Sensacell is a privately held company, established in 2005.
# # #