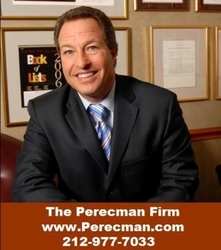 I was relieved to hear that there were only minor physical injuries reported this time.
New York, New York (PRWEB) July 16, 2009
A Staten Island ferry boat packed with about 800 rush-hour commuters slammed into a pier while docking on July 1. Approximately 14 people were left with minor injuries. There was some damage to the dock, but the vessel did not suffer any damage, reports the New York Post.
"When I heard the story, the first image that came to my mind was the horrible ferry accident that killed eleven in 2003," says New York personal injury lawyer David Perecman. "I was relieved to hear that there were only minor physical injuries reported this time."
About 750 people were evacuated from the boat.
According to the fire department, it appears that the boat abruptly lost power before hitting the Staten Island dock at full speed.
The ferry terminal, the St. George Terminal, was the same site of the 2003 ferry crash, one of the city's worst mass-transit disasters. Eleven people were killed when a ferryboat crashed into a maintenance pier at full speed after the vessel's pilot blacked out while on painkiller medication. Scores more were injured. About 1,500 people were aboard at the time.
New York personal injury lawyers are quick to note that the last accident prompted a flurry of passenger lawsuits against the city, which owns and operates the ferry sersvice. These personal injury lawsuits resulted in payment of close to $83 million to settle the more than 130 suits.
Says Perecman and other New York personal injury lawyers, there are likely to be a flood of personal injury lawsuits filed against the city again.
"The law does allow all those on the ferry who suffered emotional distress to file for compensation, even if they did not suffer any physical injuries," explains Perecman, who has over 25 years experience in Staten Island as a New York personal injury lawyer.
About David Perecman and The Perecman Firm, PLLC:
For the past 25 years, the New York personal injury lawyers, construction accident, auto accident and medical malpractice lawyers at The Perecman Firm, PLLC have championed all types of cases for personal injury. David Perecman, founder of the Firm, is the past Secretary of the New York State Trial Lawyers Association (NYSTLA) and a chair of its Labor Law Committee. Mr. Perecman's achievements have brought him recognition as an Honoree in the National Law Journal's Hall of Fame, in New York Magazine's "The Best Lawyers in America" and The New York Times Magazine "New York Super Lawyers, Metro Edition".
The Firm has recovered millions of dollars for its clients. Among the more recent victories, Mr. Perecman won a $15 million verdict* for a construction accident, a $5.35 million dollar verdict** for an automobile accident, and a $40 million dollar structured settlement for medical malpractice.
*later settled while on appeal for $7.940 million
** later settled for $3.5 million
###