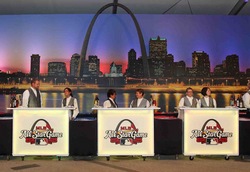 we have been selling the Smart Bar™ to major hotel chains such as Marriott and Sheraton since October last year, and recently made a few upgrades to the bar that made it, we believe, the world's smartest bar
NYC, NY (PRWEB) July 24, 2009
Tony Giardina, Manager of National Account Programs for Delaware North Companies said: "The Smart Bar was a great addition to this year's MLB All-Star game. The LED lighting system, the ability to brand along with the simplicity of setting up and tearing down of fully equipped, portable bars was a perfect fit for this event and will be used at other events in the future".
Delaware North Companies, a global leader in hospitality and food service, chose Smart Space Products to provide fifteen of the companies' innovative Smart Bars for Major League baseball's All-Star Game receptions in St. Louis.
According to Adam Rozen, founder and CEO of Smart Space Products, the event was also an opportunity for Smart Space Products™ to present the newest development of the Smart Bar: "we have been selling the Smart Bar™ to major hotel chains such as Marriott and Sheraton since October last year, and recently made a few upgrades to the bar that made it, we believe, the world's smartest bar".
ABOUT SMART SPACE PRODUCTS™
SMART NEW WAY TO BOOST CATERING/BANQUET PROFITS
Most hotels, restaurants and catering facilities are using the same furniture for weddings and Bar Mitzvahs that they were using when you were thirteen years old. The same thing goes for corporate events, political rallies, retirement parties and so forth.
There are newer, better, more profitable alternatives available. In particular, Smart Space Products. This innovative collection of attractive, portable, space-efficient furniture offers new ways to satisfy clients while increasing profits.
COMPLETELY PORTABLE AND EXCEPTIONALLY SPACE EFFICIENT
The Smart Bar, Smart Communal Table, Smart Buffet and Smart Cocktail Table are constructed of unbreakable Plexiglas and lightweight but sturdy metal. Each piece (designed in collaboration with industry knowledgeable engineers as well as food and beverage managers), looks clean and modern, breaks down and sets up in 1/10th the time of traditional furniture, is completely portable and exceptionally space efficient during storage.
BUILT-IN LED LIGHTING.& CHANGES COLORS AT THE FLICK OF A REMOTE CONTROL
From a profit standpoint these products stand miles ahead of their traditional counterparts. Each piece features built-in LED lighting. The lighting changes colors at the flick of a remote control unit. In addition, these units offer personalization. Photographs, logos, slogans, you name it, can be easily created and mounted to the Plexiglas panels. Both features enable caterers to charge a premium. And they are options many customers will find very appealing.
MARRIOTT AND SHERATON HOTELS ARE ALREADY SMART SPACE CUSTOMERS.
Are these new benefits interesting to the industry? You bet. Both Marriott and Sheraton hotels are already Smart Space customers.
"The Smart Bar is one of the most innovative ideas that I have seen in a long time. They are Space Saving and our new centerpiece of any banquet function." -- Carol Pernot - Director of Banquet Operations - New York Marriott Downtown
WHERE CAN YOU BUY SMART SPACE PRODUCTS™
We recently signed a distribution agreements with:
The Wasserstrom Company
American Hotel Register Company
RSS Distributors
You can also visit our website at http://www.SmartSpaceProducts.com
# # #