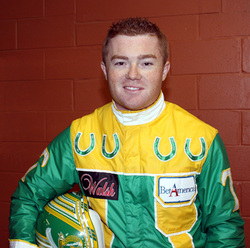 Tim Tetrick as a harness driver embodies what BetAmerica.com is also all about
Fargo, ND (PRWEB) July 18, 2009
BetAmerica.com is proud to announce that harness driver Tim Tetrick, who has been a member of BetAmerica's harness "Dream Team" for the past year, has reached another milestone in his racing career in the last days of his sponsorship.
On July 11th, 2009, Tetrick has become the youngest harness drive to reach 5,000 wins in his career.
The twenty-seven year-old Tetrick guided Trade Editor to an upset victory in the fourth race at The Meadowlands, in New Jersey. The race was a $15,000 condition event and paid ticket holders who backed Tetrick $19.20 to win for a $2.00 bet.
Tetrick's career benchmarks of 2,000 wins in 2006, 3,000 in 2007 and 4,000 in 2008 were also records. The Illinois native shattered the sport's earnings record for the second straight year in 2008, banking $19.7 million in purses. He also won a record 1,189 races in 2007. Despite missing most of January while recovering from hip replacement surgery, Tetrick is currently atop the sport's earnings list with $6.5 million. Tetrick's records also include becoming the youngest driver to the win the $1 million Meadowlands Pace at age 25 with Southwind Lynx.
"Tim Tetrick as a harness driver embodies what BetAmerica.com is also all about" quipped Jared Alexander, BetAmerica's Player Representative. "Tim's consistent commitment to being the best, and his overall professionalism, have led him to be a fan favorite at all the tracks he drives at".
Tim was also the first driver to have over one million dollars in purse earnings before turning 20 years-old. "Tim's accomplishment on Saturday speaks volumes about this 27 year-olds impact on the harness racing community" stated Alexander.
"Tetrick is the face of the future for harness racing in the U.S. and Canada" remarked Alexander. "As one of our "Dream Team" members, we congratulate him on this outstanding achievement and wish him continued success."
Contact info:
Jared Alexander
Player Representative
BetAmerica.com
Phone: 888-252-0798
About BetAmerica.com (BetAmerica.com)
BetAmerica.com looks to become the leading online racing in the United States by offering racing, and unique and exciting contests and competitions for its customers. With industry leading software and wagering on over 80 Thoroughbred, Quarter Horse and Harness tracks from across North America, BetAmerica.com is licensed and regulated by the North Dakota Racing Commission.
All BetAmerica.com racing wagers are securely commingled into host track betting pools and winning wagers are paid at full track odds. BetAmerica.com offers free live video for all members, no wager or subscription fees, up to date track odds, and cash rewards on designated BetAmerica Bonus Tracks.
For more information on BetAmerica visit http://www.BetAmerica.com
About Branding Rights LLC
Branding Rights is an advertising, branding and sponsorship agency that develops and markets innovative rights programs for transportation, sports and media platforms. Branding Rights identifies and exploits opportunities to monetize assets into recurring revenue streams.
In harness racing, Branding Rights created the "Standardbred Stars" endorsement program for drivers and trainers, represents the historic Grand Circuit for development of an industry-wide sponsorship program and operates a YouTube channel known as ersoH-TV. Branding Rights is based in Philadelphia.
Contact: Charles Geffen, CEO, 215-545-3222
###