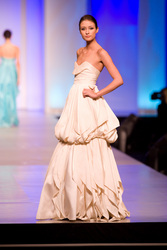 The Outstanding Art of Television Costume Design.
Los Angeles, CA (PRWEB) July 30, 2009
FIDM alumna and "Project Runway" winner Leanne Marshall will be honored with a celebration of her winning collection as part of the FIDM Museum & Galleries annual exhibition entitled "The Outstanding Art of Television Costume Design."
A fashion design graduate of FIDM/ Fashion Institute of Design & Merchandising, Marshall made a name for herself as the young, talented designer behind the trendy West Coast label, Leanimal. In 2008, she was named one of sixteen contestants on the highly anticipated fifth "Project Runway" season. Emerging as a strong contender on the Emmy-nominated reality series, Marshall ultimately emerged victorious over finalists Kenley Collins and Korto Momolu, earning the show's $100,000 grand prize and the opportunity to sell her line on Bluefly.com.
Culled from Marshall's final show at Mercedes-Benz Fashion Week in New York City, the winning collection of "Project Runway" fashion is at the cornerstone of a broader show brought together through a collaborative effort between the Academy of Television Arts & Sciences and the FIDM Museum & Galleries. Marking the accomplishments of the past year, the exhibition includes more than 100 costumes and sketches selected from a variety of television genres, including episodic series, mini-series, and selected reality shows.
Designers include Jo Katsaras for "No. 1 Ladies Detective Agency," Eric Daman for "Gossip Girl," Luke Reichle for "Without a Trace," Salvador Perez Jr. for "Castle," and Randall Christensen, Steven Norman Lee, and Daniella Gschwendtner for "Dancing with the Stars." Other television programs include the likes of "Ghost Whisperer," "The L Word," "The Tudors," and "John Adams."
This exciting show will open Wednesday, July 29th, 2009 and run until Sunday, September 6th, 2009. Museum admission is free. Gallery hours are 10 a.m. - 4 p.m. Wednesday through Sunday, and closed Monday and Tuesday. It is located at:
FIDM Museum & Galleries On the Park, 1st Level,
FIDM/ Fashion Institute of Design & Merchandising,
919 S. Grand Avenue (Corner of Grand Avenue and 9th Street)
Los Angeles, CA 90015
For further details, call 213.623.5821, ext. 224
The Museum and Galleries is brought to you by FIDM, a private, co-educational college offering 18 exciting majors including fashion design, graphic design, merchandise marketing, and business management. With four campuses located across sunny California, FIDM is the premier college to pursue any career within the fashion or entertainment industries.
# # #