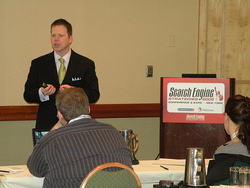 When it comes to learning and understanding the ideas and strategies behind the search industry, I am confident that there are no better training sessions than the ones we are set to feature at SES San Jose this year
San Jose, CA (PRWEB) July 17, 2009
Search Engine Strategies (SES) San Jose is offering two full days of training on Monday, August 10, and Friday, August 14, the initial and final days of the SES San Jose conference. The training sessions will cover the practices, applications, and hands-on exposure required to become and remain a top performer in the search engine marketing (SEM) field. Both days feature intensive workshops and teach skills necessary to improve search engine optimization (SEO) and pay-per-click (PPC) advertising results.
Now in its 11th year, SES San Jose 2009 is the largest search engine marketing expo on the West Coast and consists of more than 70 sessions, multiple keynotes, Orion panels, over 150 exhibitors, networking events and more.
"When it comes to learning and understanding the ideas and strategies behind the search industry, I am confident that there are no better training sessions than the ones we are set to feature at SES San Jose this year," remarked Matt McGowan, Vice President and Publisher for Incisive Media's Interactive Marketing Group. "I've talked to plenty of people who've attended our workshops at past conferences and the response is always enthusiastic. This year we are featuring an especially well known and well respected group of instructors, each one chosen not only for their incredible expertise, but also their ability to make seemingly complex topics seem clear as day."
The first day of training, August 10, consists of partnered training workshops featuring speakers including:

Bruce Clay of Bruce Clay Inc. whose full day "Search Engine Optimization" workshop focuses on "white hat" engine compliant SEO methods and how to avoid techniques that will get marketers in trouble.
Matt Bailey of SiteLogic whose half day workshop "SEO and Direct Marketing Tactics for Ecommerce Websites" covers the principles of Direct Marketing and how to use these practices to increase the sales rates, impression and visibility of a site.
Lee Odden of TopRank Online Managing whose half day workshop "Social Media Marketing and SEO - Working Together for Dramatic Results" explores how a combination of social media and search engine optimization can help companies better connect with other companies and drive up sales.
Note: Those attending both Matt Bailey and Lee Odden trainings will receive access to the Direct Marketing Association (DMA) Search Engine Marketing Level I e-Learning course and credit towards the DMA Search Engine Marketing Certification Program.

Aaron Kahlow of Online Marketing Summit whose full day "Essence of Online Marketing" Certification course will teach participants the basics in all aspects of online marketing, including strategy, search, analytics and much more. After completing the program, students will take a final exam and receive a certificate proving they have studied the Essentials of Online Marketing.
Jennifer Veesenmeyer of Stratigent LLC. whose full day course "Web Analytics for Site Optimization" teaches participants how to improve navigation, increase engagement and improve conversion rates. This course is sponsored by the Web Analytics Association (WAA) Base Camp.
The second day of training, August 14, consists of six four-hour workshops and features the following speakers:

Shari Thurow of Omni Marketing Interactive whose "Search Engine Optimization" workshop explains what a "search friendly" website is and how to turn a site into one.
Jennifer Evans Laycock of SiteLogic whose workshop "Real Big Ideas for Real Small Businesses" explains how a small business with a limited advertising budget can use the Internet as a lucrative marketing launch point.
Greg Jarboe of SEO-PR whose workshop "YouTube and Video Marketing Workshop" instructs marketers on how to take advantage of YouTube and the public's huge appetite for online videos.
Bill Hunt of Global Strategies International whose course "Managing Complex Search Problems" covers how large companies are integrating search into the marketing mix to compliment the overall performance.
Amanda Watlington of Searching for Profit whose course "Getting Fluent in Search Marketing: A Fast-Track for Senior Managers" is designed to give the senior manager a jumpstart on the critical issues related to managing the "alphabet soup" of search--acronyms such as PPC, SEO, SEM, CMS and more.
Cindy Krum of Rank-Mobile LLC. whose "Mobile Marketing 101" training will serve as a basic introduction to mobile marketing and mobile SEO, including basic mobile marketing skills and how to launch a mobile marketing campaign.
To sign up for the training sessions and for more information about the largest search engine marketing conference and expo on the West Coast, go to the SES San Jose 2009 website. Register through July 24 to save up to $200 with the early bird rate.
About SES
Incisive Media's Search Engine Strategies is a leading global conference and training series focused on search engine optimization and search engine marketing. Other Incisive resources for interactive marketers include the ClickZ network for digital marketing news, information, commentary, advice, opinion and research and Search Engine Watch which provides news and information about search, analysis of the search engine industry and tools for improving search marketing effectiveness.
Incisive Media is a leading global provider of specialized business news and information, in print, in person and online. The company's principal markets include financial services, legal services, commercial real estate, marketing services and risk management. Incisive Media's market-leading brands include Accountancy Age, Computing, Investment Week, Legal Week, LegalTech, Post, Real Estate Forum, Risk, Search Engine Strategies and The American Lawyer. For more information, visit http://www.incisivemedia.com.
###