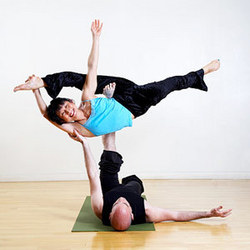 We were so thrilled to witness AcroYoga when we did the photo shoot for the extreme yoga poses recently
New York, NY (PRWEB) July 17, 2009
Fitness Magazine is currently featuring a series of photos of AcroYoga extreme yoga poses, which blends yoga, Thai massage and acrobatics. FitnessMagazine.com also includes a complete guide to yoga, including workout videos illustrating a variety of yoga poses, photos of many yoga positions, answers to common yoga questions and more.
"We were so thrilled to witness AcroYoga when we did the photo shoot for the extreme yoga poses recently," said Stephanie Jones Wagle, Site Director for FitnessMagazine.com. "It was new to me, but it's becoming a popular yoga practice. We also recently updated our site with just about everything the yoga devotee, whether beginner, intermediate or advanced, could want for practicing yoga."
Among the yoga information, videos and photos on FitnessMagazine.com are:
The AcroYoga extreme yoga poses include 15 photos of real yoga practitioners doing mind-boggling things with their bodies. AcroYoga is a unique new practice that cultivates trust, connection and playfulness with the aim to bring individuals into a state of union with themselves, each other and the divine.
Yes, You Can Do Yoga features beginner, intermediate and advanced yoga positions and workouts. Yoga practitioners will find detailed instructions and photos on how to do yoga poses "Downward Dog," "The Crow," and "The Lunge."
The complete yoga video workout is a one-hour in-depth workout featuring a variety of yoga poses. The video was put together by Cyndi Lee, founder of Om Yoga in New York City, and is designed to sculpt all major muscles and boost heart rate.
The yoga for better sleep poses includes an 8-minute workout of five yoga poses that relax the mind and body for sleeping. The best part is that the poses can be done in bed.
Yoga for back pain presents a video showing yoga poses that release tension from the back through spine twists that increase circulation and soften muscles. These therapeutic yoga workout poses get rid of stiffness and pain in the back.
Yoga's health benefits are spelled out in photos of yoga poses that lead to a healthier heart, a better night's sleep and a happier outlook on life. There are yoga poses for weight control, anxiety and depression and other overall benefits.
About FitnessMagazine.com
Developed by the experts at Fitness Magazine (http://www.fitnessmagazine.com/), this is the premiere Web site for exercise, health, and nutrition information. From our Personal Fitness Trainer to our healthy recipes, from video workouts to our free exercise logs, FitnessMagazine.com is the guide you need to help you reach your fitness goals and celebrate your successes.
Like the magazine, FitnessMagazine.com is dedicated to delivering strategies and tools that help women make little changes to achieve big success. With a you-can-do-it attitude, our workouts, health and beauty advice, diet plans and success stories motivate readers to get strong in mind, body and spirit. The magazine empowers women to embrace fitness as a lifestyle--not an age or dress size--and to change the conversation from "skinny" to "healthy."
# # #