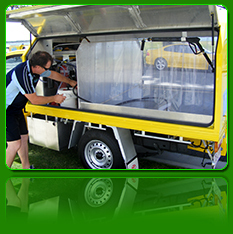 The need for this service is clear.
Gold Coast, QLD (PRWEB) July 20, 2009
Homeowners looking to deal with their unsanitary and unhealthy garbage bins now have an easy, affordable solution available. It's Bin Cleaned, the Gold Coast's premier bin cleaning company, offers a full line of services to clients, including minor bin repairs, disinfection and optimal bin placement.
It's Bin Cleaned developed a specially designed environmentally friendly bin cleaning unit which cleans residential and industrial bins of all sizes. With more and more bin owners realising the dangers of an untended garbage deposit, It's Bin Cleaned has begun developing franchising relationships with suppliers across Australia.
"The need for this service is clear." says Dean Odewahn of Its Bin Cleaned, "Untended bins are a breeding ground for bacteria. Aside from the foul odor that spews out of these garbage bins, studies have shown that bins, left unchecked, can cause disease and illness."
The cleaning offered by It's Bin Cleaned is specifically designed to protect families from these harmful pathogens. With each service, the bin is left clean after being sprayed by a powerful eucalyptus based disinfectant. Customers enjoy the pleasant smell of the disinfectant, but below the surface of the plastic, bacteria is quickly destroyed. The disgusting creepy-crawly insects and bugs familiar to any bin owner are instantly banished. With regular cleaning, these creatures become a thing of the past.
It's Bin Cleaned pays special attention to environmental concerns, meeting all guidelines set out by the Local Council and the Environmental Protection Agency. This dedication to the community is just one more way that It's Bin Cleaned continues to give back.
With demand building rapidly, It's Bin Cleaned is currently offering driven entrepreneurs across the country the opportunity to open bin cleaning franchises. Franchisees are guided along throughout each step of the process, with access to marketing materials, simplified instructions, and careful guidance as they move down the road to maximum profits.
For more information, visit ItsBinCleaned.com.au. To explore franchising opportunities, contact Dean Odewahn on 1300 780 784 or via e-mail.
# # #