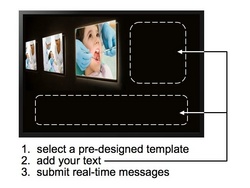 Because of the unlimited scalability of the 11Giraffes technology, we can now extend our reach far beyond the 3,000 dentists served by Waiting Room Theater today
Los Angeles, CA (PRWEB) July 19, 2009
Waiting Room Theater, a producer of exceptional educational videos for the dental profession, has formed a business relationship with 11Giraffes, an asset-based, digital media management company specializing in the delivery of business music and digital signage.
This new partnership will provide Waiting Room Theate r with the technology to deliver professional video to dentists for waiting areas and patient treatment rooms throughout North America, and around the world. Waiting Room Theater will now have the ability and flexibility to deliver content to their clients when and where they want it, and provide web-based, easy-to-use, on-site message creation capabilities.
"Because of the unlimited scalability of the 11Giraffes technology, we can now extend our reach far beyond the 3,000 dentists served by Waiting Room Theater today," said Dr. Jay Grossman of Los Angels, who co-founded Waiting Room Theater for his own practice in 2003. "Based on the fact that 85% of our dentists surveyed reported increased revenues since they engaged our services," Grossman said, "we know the positive impact we're having on the profession, and we know the benefits of this expansion goes far beyond practice revenues to the dental health and awareness of the patients themselves."
As Rudy Alexander, 11Giraffes President and CEO states, "We believe our technology platform and asset-based digital media management system is unmatched in the industry, and allows us to provide exactly what our customers want and deserve." Alexander went on to say, "We're very proud to have Waiting Room Theater as a business partner. Their products provide an outstanding opportunity to educate and inform patients, helping them become excellent advocates of their own dental health, and the dental health of their families. A core value at 11Giraffes is the welfare of women and children. This new business relationship allows us to support the outstanding efforts started by Dr. Grossman eight years ago."
The award winning, professionally produced videos of Waiting Room Theater include a broad range of general and specialty dental services including sleep apnea, whitening, cosmetic procedures, dental facts and DentRelax. Waiting Room Theater has also made a commitment to produce video in closed caption, reaching a demographic widely underserved in the marketplace today.
In addition to this ever-expanding portfolio of offerings, offices will now have access to a library of templates for the creation of their own, on-site messages to communicate with their patients in real-time regarding new offers and promotions, community activities, charitable causes, local events, and other announcements important to the practice and the patients.
"As we increase our business," said Dr. Jay Grossman, "we will continue our support of Homeless Not Toothless, an organization we founded in 1992 to provide free dental care to the homeless. Today, there are over three dozen dental offices participating throughout the greater Los Angeles area in this cause. The expected growth in Waiting Room Theater will allow us to proudly expand our support of this important endeavor."
The Waiting Room Theater and 11Giraffes business relationship was officially announced at the California Dental Association Conference on May 15, 2009 in Anaheim, CA.
About Waiting Room Theater
Headquartered in Los Angeles, CA, founded in 2003, Waiting Room Theater is the pioneer in dental infotainment. Originally delivered on DVD in quarterly intervals to nearly 3,000 dental offices, the popularity of high speed internet connectivity combined with the functionality of digital signage have made the timing perfect for transition. Now WRT subscribers can customize and personalize the content that plays in their waiting rooms, treatment rooms, and even send the same video clips to their patients as video emails.
About 11Giraffes Company
Headquartered in Charlotte, North Carolina, 11Giraffes is an asset-based media management and delivery company, providing innovative digital music and digital signage solutions for in-store, in-office, and digital advertising networks. The Company's sophisticated technology platform provides enhanced dynamic delivery capabilities and seamless, highly scalable business solutions, connecting brands and consumers in the moment that matters.
About Homeless Not Toothless
Raising the pride and dignity of the underserved through quality dental services.
Founded by Dr. Jay Grossman in 1992, Homeless Not Toothless is a 501C(3) non-profit program providing free dental care to the homeless. Since its inception, Homeless Not Toothless has pro-vided over $2,000,000 in service for this population. The dentists and staff members who work with the homeless patients do so without any financial compensation and with only the kindest and most generous of hearts.
###