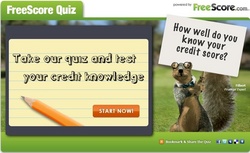 How well do you know your credit score?
Norwalk, CT (PRWEB) July 20, 2009
FreeScore.comSM has created http://www.FreeScoreQuiz.com, where consumers can test their knowledge about the importance of credit scores and reports. The site contains eight questions that separate fact from fiction for people seeking to buy a home or car, obtain insurance or even get a new job.
Visitors are welcomed to the quiz site by , Filbert, the Credit Squirrel asks people "How well do you know your credit score?" Once consumers launch into the quiz, they find questions covering:

Myths about credit reports and scores
The single most important factor in determining a credit score
Personal information included in a credit report
Why consumers need to check all 3 credit reports and scores
The types of decisions, besides loan approvals, that can be affected by credit scores and reports
Which people and institutions are allowed to access a consumer's credit information
According to Rob Wyse, spokesperson for FreeScore.com, "FreeScore.com exists because, like the stock market, your credit scores can fluctuate. The credit knowledge quiz is a fun, easy way to learn more about credit scores and how they're used. Plus, consumers will better understand how vitally important it is to know their credit scores."
Also debuting this week is a new 60-second television commercial for FreeScore.com featuring Ben Stein, economist, lawyer, financial writer, former presidential speechwriter, actor, and TV personality. To view the new FreeScore.com commercial, visit http://www.FreeScore.tv.
About FreeScore, LLC
FreeScore, LLC, is a consumer credit reporting and monitoring company. For more information, go to http://www.FreeScore.com.
###