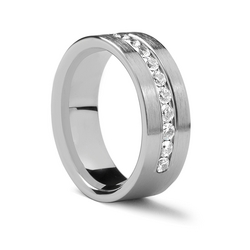 Peace of mind for our customers is our primary concern and we do not want couples to spend the rest of their lives worrying about exchange fees or deductibles so we decided to give them a truly free lifetime sizing policy and lifetime warranty
Irvine, CA (PRWEB) July 20, 2009
Larson Jewelers has announced their ''Truly Free Lifetime Sizing and Lifetime Warranty on all tungsten wedding rings''. This means that customers who purchase any tungsten ring sold by Larson Jewelers will be able to get their rings replaced if their finger size changes during their lifetime and if the ring is damaged, whether it is their fault or not, during their lifetime Larson Jewelers will replace that ring at no charge. Couples no longer have to worry about ''exchange fees'' or ''deductibles''.
"Peace of mind for our customers is our primary concern and we do not want couples to spend the rest of their lives worrying about exchange fees or deductibles so we decided to give them a truly free lifetime sizing policy and lifetime warranty" says Jonathan Larson, founder of LarsonJewelers.com. Other retailers often charge a fee to do a size exchange or to replace a ring that is damaged in an accident. Even if they say they offer a ''free'' lifetime warranty, they often charge other hidden fees, such as processing fees, restocking fees or shipping & handling fees. With Larson Jewelers, there are NO fees, period. Larson Jewelers carries only the highest quality tungsten rings crafted with high precision. Therefore, they are able to offer this warranty because they truly stand behind their products.
Benchmark Rings
In addition, Larson Jewelers is proud to announce they are now an authorized retailer of Benchmark Rings. Benchmark rings are sold in fine jewelry stores across the country and they produce hundreds of styles to fit anyone's taste. Benchmark produces solid wedding rings and bridal bands set with diamonds. Benchmark rings come in platinum, 14k & 18k white or yellow gold, palladium, tungsten and titanium. Each ring is die struck and then hand carved in a wealth of innovative and traditional designs. After investing $3 million in gemstone setting technology, Benchmark Rings now offers a new line of ''Precision Set'' diamond jewelry. ''We are honored that Benchmark Rings, a company renowned for the highest quality wedding rings and the industry's most comprehensive lifetime guarantee, has chosen us to be one of their top-tier authorized dealers. Benchmark's all inclusive warranty program will be very important for customers looking for a peace of mind purchase, as Benchmark allows ring replacement for any type of damage'' says Larson.
Couples can look at the most popular Benchmark rings, as well as download Benchmark's full catalog and request a price quote from Larson Jewelers. Submittal of price quote requests is available 24 hours a day, and price quotes are returned the same business day. Customers can also go to a local Benchmark retailer to try on rings, get the ring style number and ask Larson Jewelers for a discounted internet price quote. Due to their high sales volume and lower overhead cost, Larson Jewelers has the most competitive pricing. Larson Jewelers guarantees they will beat any jeweler's price.
History of Benchmark Rings
Benchmark Rings was founded by Tom Tosyali. Mr. Tosyali became interested in jewelry while managing an army base store. As his interests in precious metals and gemstones grew, he began to make contacts in the jewelry trade, eventually opening up his own jewelry shop. In the 1960s Mr. Tosyali moved to the US from Turkey and continued to pursue his gemstone and jewelry interests, sourcing wedding bands and then popular diamond duos to help get his fledgling business in America off the ground. Mr. Tosyali raised his two sons while his company grew and eventually they joined the family business. AJ, the older brother, joined his father in 1997 and is now Benchmark's President. In 1999, his brother BJ transferred his engineering degree to the family business' Research & Development department. That same year the company launched its consumer and B-to-B websites to help facilitate Benchmark Rings' marketing and sales initiatives.
For a limited time, LarsonJewelers.com is offering 10% savings on all rings. To receive promotion, please use coupon code SUMMER10 at checkout.
About LarsonJewelers.com:
LarsonJewelers.com provides a wide selection of tungsten rings, palladium wedding bands, platinum wedding bands and both gold and white gold wedding rings. At Larson Jewelers, we strive to provide the best customer service to make your shopping experience hassle free and informative. ''Besides offering great products and great service, LarsonJewelers.com also offers the best prices,'' says Larson, ''In fact, if you can find a better price, not only will we match it, we will beat it.''
###