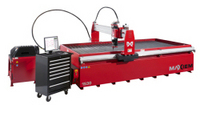 Kent, Washington (PRWEB) July 19, 2009
MAXIEM™, a division of OMAX, today announced the launch of its new website located at http://www.maxiemwaterjets.com. The site, which serves as a comprehensive resource for the recently debuted line of high performance, low-cost abrasive waterjets, will be updated regularly with new video content and product information.
The MAXIEM line is ideal for fabrication shops, metal service centers, trade schools, job shops, architectural, sign, stone and gasket shops. Manufactured entirely in the U.S., the abrasive waterjets integrate proven technologies in a cost-efficient package to provide users with an affordable, highly productive solution.
The first MAXIEM waterjet to be released is the MAXIEM 1530. Designed for the production of large parts or multiple parts from large stock, the machine productively cuts a wide variety of materials, including metal, plastic, glass, ceramics, stone and composites. The machine's 50,000 psi pump is available in 20 and 30 horsepower options. All MAXIEM waterjets will feature Intelli-MAX® Basic, a control containing the core functionality of OMAX's critically acclaimed software, as well as the patent pending X and Y-axis traction drive system designed to handle an abrasive environment.
About MAXIEM:
MAXIEM, a division of OMAX, manufactures affordable, high performance abrasive waterjet solutions for shops that desire speed, flexibility and efficiency. Each MAXIEM waterjet is equipped with Intelli-MAX® Basic, easy-to-use software that brings the advantages of abrasive waterjet technology to a much more accessible level. For more information on MAXIEM products and accessories, contact Sandra McLain at 800.838.0343 or visit http://www.maxiemwaterjets.com.
###