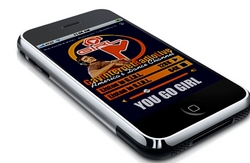 This technology has had an enormous impact on time spent listening by more than tripling the amount of time our mobile audience spends with the station
Atlanta, GA (PRWEB) July 20, 2009
GLBT Radio Network, LLC announced today its customized iPhone application for GayInternetRadioLive.com (G.I.R.L.) has surpassed 50,000 downloads from Apple iTunes. The application debuted in the Apple iTunes store four months ago this week and remains listed as one of Apple's top 100 free music applications. The wildly popular dance formatted station appeals to all dance music enthusiasts but specifically targets the GLBT demographic.
"This technology has had an enormous impact on time spent listening by more than tripling the amount of time our mobile audience spends with the station," said Christopher Leonard, President and CEO of GLBT Radio Network. "The response has been overwhelming. To meet audience demand, we have increased our bandwidth capacity, moved our iPhone listeners to a dedicated stream server and also increased the number of concurrent seats available on the mobile stream. I continue to receive hundreds of emails and calls every week thanking us for the application."
Unique to this iPhone application is the ability to deliver powerful branding messages with the use of colorful mobile banner advertising. When clicked, the app opens the advertised content within the application. The audio stream is not interrupted and customized web pages built specifically for iPhone browsing are displayed." Leonard continued, "This provides endless opportunities for advertisers to provide direct response marketing such as "tap to call" and "tap to email" options while the advertisement is literally in the hands of the consumer." Traditional in-stream audio ads, generally 10 to 30 seconds in length, blend in with the dance music format to promote gay and gay friendly businesses worldwide. It's advertising for today's mobile tech savvy consumer.
Some additional features include:

.3MB application size.
128 kbps stream for WiFi and a 64 kbps stream for 3G listening.
Custom branded application with no directories to search.
"One tap" access to audio streams.
Artist and Song title information displayed at the top of the screen.
Instant feedback buttons to call the request lines or email the station.
Version 2.0 Update September 2009 with additional features!
About GLBT Radio Network
GLBT Radio Network is an Internet based media company specializing in Internet only radio programming that targets the Gay and Lesbian community. For more information and advertising opportunities visit http://www.GLBTradionetwork.com .
Press Contacts:
Christopher Leonard
GLBT Radio Network
404.395.8383
# # #