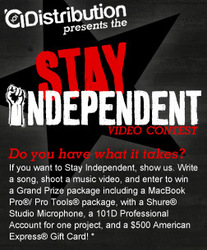 Phoenix, Ariz. (PRWEB) July 20, 2009
101 Distribution (http://www.101d.com , the nation's only full service music and video distributor and Warehouse Agency 2 unveiled 101D Infomusicials, a series of online viral videos that spotlight the benefits of independent distribution. Embeddable and designed to spread virally, 101D Infomusicials leverage the power of the DIY approach to reach music fans, artists, labels and producers everywhere online. 101D InfoMusicials promote the company's mantra "STAY INDEPENDENT", and represent an ongoing effort by 101 Distribution to educate artists and filmmakers about alternative strategies to marketing and promoting new releases and back catalog content through it's international network of 5,500 retail stores, digital download services, and mobile networks.
Independent artists produce more than 85% of all the music sold worldwide. 101 Distribution has always recognized and appreciated the power of the independent music community- and so do the 2,000 producers, artists and labels 101 is currently contracted with. Simply stated, major labels are no longer needed to break new music.
News Facts:

The 101D song was written from the start to be recorded in three very distinct music genres (rock, hip-hop and pop) and appeal to a wide spectrum of viewers/listeners.
The 101D Infomusicials sport state-of-the-art advanced features on YouTube, such as interactivity through the clever use of annotations; allowing the viewer to click on different areas of the video for added content or listening to the song in their preferred music genre.
Camille "Sledge" Young, a professional model and singer from Philadelphia, Pa. and former Miss Pennsylvania 2003, added funk and groove to the project. She is a talented singer and daughter of Debbie Sledge of Sister Sledge fame. Remember the 70s pop culture and grooving sound of Sister Sledge's "We are family"? To continue their family legacy, Camille along with Gabrielle, Laura and Jules decided to take it to the next level and form Epiphany, the band composed by the beautiful, talented and blessed daughters of Sister Sledge.
Gerard Lafond of redTANGENT and Persuasive Games, makes his Guitar debut by contributing guitar tracks
Behind the scenes of the 101D Infomusicials, resides a great team of indie talent; from songwriting to video production, the project resembled an independent film project, more than the expected strategic advertising methodology.
The 101D Infomusicials will hit the road alongside indie projects from some of today's hottest artists - including Kanye West, Mos Def, Little Wayne, The Game, Metallica and more.
Additionally, 101 Distribution today launched the "Stay Independent Video Contest" which will run through Sep. 15, 2009. The first 25 entries will win a Pro Account from 101D while one Grand Prize winner will win a computer and indie music studio package worth almost $4,000. All entries will feature an original, user generated, music video by independent artists. For official rules and entry go to: http://www.101dcontest.com.
About 101D
101 Distribution (Phoenix, Ariz.) began shipping music and video titles to independent and commercial retail stores in 2001. Today, 101 Distribution manages the digital, mobile, retail and mail order sales for more than 2,000 active releases from touring artists and record labels around the world. The company operates as the only full service distributor that offers artists a 100% payout on all net royalties in exchange for a flat monthly fee. 101 Distribution's independent releases can be found in 5,500 retail stores, digital download services, and mobile networks across the US, Canada and 8 major foreign territories. 101 Distribution.com - We Are Music Distribution. (http://www.101distribution.com)
About Warehouse Agency 2 and redTANGENT
Warehouse Agency 2 and red TANGENT are part of the Tempe Digital Advertising Collective working with local and international clients deploying groundbreaking online, social media friendly, marketing and promotional campaigns. Digital content production, digital strategy and messaging, video and web production, and online games are just a few of the tools in our ever-evolving marketing toolbox. Current clients include: Mark-Taylor, TV Guide Network, TLC/Discovery Communications, and other leading lifestyle and entertainment brands.
(http://www.warehouseagency2.com)
(http://www.redtangent.com)
Song Credits
101D ROCK
Written by Andrew Coppola and Janae Archuleta
Produced by Courdek, Frenchy and Adam Wheeler
Vocals by Courdek
Guitar by Gerard Lafond and Andrew Francis
Bass by Andrew Francis
Drums by Ash Horak
Recorded at Switchblade Sound
Mixed and mastered by Grace Royse
Published by Warehouse Agency 2
(P)2009 101 Distribution
101D RAP
Written by Andrew Coppola and Janae Archuleta
Produced by Courdek, Frenchy and Adam Wheeler
Vocals by Courdek
Chorus vocals by Camille "sledge" Young
Keyboards and programming by Courdek
Recorded at Switchblade Sound
Mixed and mastered by Grace Royse
Published by Warehouse Agency 2
(P)2009 101 Distribution
101D POP
Written by Andrew Coppola and Janae Archuleta
Produced by Courdek, Frenchy and Adam Wheeler
Vocals by Camille "sledge" Young
Keyboards and programming by Courdek
Recorded at Switchblade Sound
Mixed and mastered by Grace Royse
Published by Warehouse Agency 2
(P)2009 101 Distribution
# # #