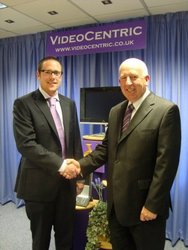 This is a culmination of many years hard work by our service and support teams because the top award was specifically for the renewals we achieved from satisfied customers
London and Edinburgh (PRWEB) July 20, 2009
VideoCentric, one of Polycom's top videoconferencing resellers and integrators, today announced that it had won an award for UK maintenance and support services.
The competition, sponsored by Polycom was run by Europe's biggest trade distributor, Imago Group plc in the first quarter of 2009, and involved over 200 resellers across England, Scotland, Wales and Northern Ireland.
Craig Brown, Technical Director of VideoCentric Ltd said "This is a culmination of many years hard work by our service and support teams because the top award was specifically for the renewals we achieved from satisfied customers".
Kate Callaway, who presented the award to VideoCentric on behalf of Polycom and Imago added, "To build its Number 1 world ranking, Polycom has built a global distribution network which is dependent upon the technical excellence and customer care offered to customers by accredited resellers in each country. VideoCentric in the UK has demonstrated that it does not only focus on sales to new customers, but it is able to build loyalty and repeat business amongst customers it has worked with for many years".
"The expansion of VideoCentric's interoperability facilities, the improvement of our fault logging systems and the increase in our staffing levels and HD demonstration systems for 2009/10 further illustrates VideoCentric's dedication to the growth and support of video conferencing, streaming and telepresence solutions over the next few years", added David Shimell, Sales Director for VideoCentric Ltd.
About VideoCentric
VideoCentric is an integrator & reseller of the world's leading video conference, telepresence and streaming products from Polycom, Tandberg, Emblaze-VCON, Lifesize, Aethra, RADVision, Codian, SONY & Canon. Headquartered in the Thames Valley, England, with satellite sites in Edinburgh, Scotland, VideoCentric markets its products and services primarily in the UK but has also formed associations with other Companies worldwide to facilitate the global supply and support of major corporations and system integrators, including those of Cisco, Avaya, Mitel, IBM and Nortel. VideoCentric's bandwidth services include the supply of ISDN, ADSL, ADSL-Max, SDSL and un contended leased lines for video and voice over IP, and their other value added services include free demonstrations, long-term rental, short-term hire, installation, maintenance, training, managed multipoint, pay-as-you-go MCU, ISDN Gateway and 24x7 video dial-in support. For more information, visit http://www.videocentric.co.uk or telephone 0118 9798910 (England/Wales) or 0131 473 2351 (Scotland).
About Polycom
Polycom, Inc. (NASDAQ: PLCM) is the global leader in telepresence, video, and voice solutions and a visionary in communications that empower people to connect and collaborate everywhere. Please visit http://www.polycom.com for more information.
Polycom audio and video systems sold, installed and supported in the UK by VideoCentric include RPX, RMX1000, RMX2000, MGC, HDX4000, HDX6000, HDX7000, HDX8000, HDX9000, QDX6000, VSX3000, VSX5000, VSX6000, VSX7000, VSX8000, V700, V500, PVX Desktop, CMA4000, CMA5000, CX100, CX200, Communicator, CX5000, VVX1500, Soundstation, Wireless Soundstation2W, Soundpoint, SoundStructure, Vortex, EagleEye, RSS2000, SE200 and VBP.
# # #