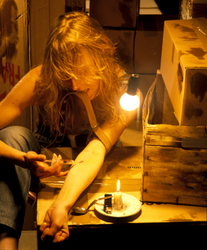 Programs like this one definitely do help reduce the spread of infectious disease among intravenous drug users
Trois-rivières, QC (PRWEB) July 22, 2009
Trois-Rivières, Quebec (PRWEB) -- One of the first needle exchange programs in North America closed after 21 years of operation. The needle exchange program operated by the Downtown East-side Youth Activities Society in Vancouver, British Columbia closed down for various reasons.
Originally founded in 1988 by John Turvey, it was a landmark program that was very innovative for its time. Its premise was that of former addicts helping addicts. Although met with much opposition when it first began, it was soon accepted and Vancouver health authorities would start paying the bill by the early 90's. When Turvey first started the program more then 2000 people were using the service within the first six months. Within the early 90's, more than three million needles were being given out each year. "Programs like this one definitely do help reduce the spread of infectious disease among intravenous drug users," said Nick Hayes, a representative of Narconon Trois-Rivières.
"It's too bad to see a program like this one get closed down, but I am sure there are more resources available to help take its place," said Hayes. The creator of this original program, John Turvey died in 2006. By that time there were many other needle exchange programs that have developed because of what he accomplished. In any given year there are more than two million needles given out in the downtown east-side.
"It is important that these needle exchange programs continue to connect users with drug rehabilitation programs and drug detox programs," said Nick. "Helping addicts keep safe is important, but giving them a chance to completely rehabilitate and get their lives back is paramount."
Vancouver's downtown east-side has had a long-standing reputation for being a haven for drugs, prostitution, and crime. The Narconon drug rehabilitation network has been helping by operating a drug prevention and education program and recently opened a drug rehabilitation program in the Vancouver area.
In essence, effective drug rehabilitation is a definite long term solution to afflicted drug users in the Vancouver's downtown eastside.
For more information about drug and alcohol addiction, or if you or someone you know is battling a drug or alcohol addiction, call 1-877-782-7409, or visit http://narconon.ca/
(Ref: Works Cited: Robert Matas "Landmark needle exchange program closing down" The Globe and Mail 9 July, 2009: http://www.theglobeandmail.com/news/national/landmark-needle-exchange-program-closing-down/article1210092/)
© 2009 Narconon Trois-Rivières. All Rights Reserved.
NARCONON is a trademark and service mark owned by Association for Better Living and Education and is used with its permission.
###