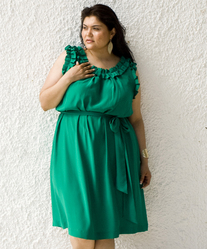 Los Altos, CA (PRWEB) July 20, 2009
LaGrandeDame is making room for trendy fall plus sized styles by clearing their remaining summer clothes and accessories in a huge online warehouse sale. The warehouse sale, running July 24th through July 26th will feature progressive discounting with most items starting at 60 percent off! The sale will include items from high end designers including Anna Scholz, Marina Rinaldi, Gayla Bentley, Melissa Masse, Lafayette 148 New York and more.
About the La Grande Dame Warehouse Sale:
The sale will be held at LaGrandeDame.com/clearance.html beginning July 24th at 12:01 AM ET and will end July 26th at 11:59 PM ET. On July 24th, a majority of lagrandedame.com's early summer stock, including stylish maxi dresses, summer suits and more, will be marked down to 60% off. July 25th, the remaining items will fall to 65% off and finally, on July 26th, any remaining clearance stock will be reduced to 70 percent off.
About La Grande Dame
Located in beautiful Los Altos, CA, La Grande Dame (http://www.lagrandedame.com) is an online retail company specializing in high-end fashion for plus sized women. With a passion for fashion and desire to make women feel beautiful, La Grande Dame has spent the last decade scouring stores across the country and even abroad, searching for stunning clothing and accessories to offer their clientele.
La Grande Dame is a fashionista favorite, garnering frequent coverage on Plus Size About.com, a recent photo spread in Venus Diva Magazine and coverage on morning shows and blogs across the country. Stay tuned this week as La Grande Dame is featured on Mirror/Mirror, Live Well HD's new fashion show.
La Grande Dame is dedicated to promoting sustainable business practices, giving back to their community and educating their customers on the importance of doing what they can to help keep the planet healthy and are proud to partner with Renewable Choice Energy to provide customers the option to "RoundUp" their purchases to offset the carbon emitted in the shipping process. For more information please go to La Grande Dame Gives Back.
For more information about La Grande Dame's warehouse sale or to speak with the founders of La Grande Dame, Catherine Wood Hill and Michelle Wood, please call 866-972-3263.
###