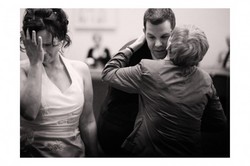 Prix de la Photographie Paris
Paris, France (PRWEB) July 21, 2009
Prix de la Photographie Paris (Px3) announces winners of PX3 2009 competition.
Henk-Jan Wesselink of Hungary was awarded the People's Choice Award 2009 in the Category Wedding for his heartbreaking tribute to his mother "mummy, goodbye...for good...".
Almost 18,000 people voted in this year´s People´s Choice Award.
He was awarded Third Prize in Portraiture for his entry entitled, "The New Generation". This single picture offers a unique view into contemporary youth culture.
Furthermore Henk-Jan received two honorable mention awards. The first one for "More Lies",an intimate portrait, and the second one for 'A Feeling of Belonging', a decisive moment during a protest of the, recently forbidden, extreme right Magyar Garda in Hungary.
The jury selected PX3 2009's winners from thousands of photography entries from over 85 countries.
About Henk-Jan Wesselink ('Daskar'):
Henk-Jan Wesselink, 35 years, born in the Netherlands, currently living and working in Budapest, Hungary, with his partner and their 7 months old son.
Henk-Jan, shooting both film as well as digital, has pursued his passion for photography for just over 5 years. He frequently publishes under the name 'Daskar', a name he started using when making graffiti back in the 1980's.
It is said that Henk-Jan has a unique ability to portray people the way they really are. He captures personalities in split seconds, 'decisive moments', and always works under available light and the setting of the moment. Photographers that continue to inspire Henk-Jan are Sally Soames, Anton Corbijn, Henri Cartier-Bresson, Nadar, Martin Parr, James Nachtwey and Sebastiao Salgado.
About Px3:
The "Prix de la Photographie Paris" (Px3) strives to promote the appreciation of photography, to discover emerging talent, and introduce photographers from around the world to the artistic community of Paris. Winning photographs from this competition are exhibited in a high-profile gallery in Paris and published in the high-quality, full-color Px3 Annual Book. Px3 is juried by top international decision-makers in the photography industry.
Henk-Jan Wesselink's PX3 2009 Prize winning photo's:
People's Choice Award:
http://px3.fr/winners/2009/zoom.php?eid=1-9092-09&uid=2225449#
Third Prize in Portraiture:
http://www.px3.fr/winners/zoom2.php?eid=1-9090-09&uid=2225449&count=0
Honorable mention awards:
"More Lies":
http://www.px3.fr/winners/2009/zoom.php?eid=1-9096-09&uid=2225449
"A Feeling of Belonging":
http://www.px3.fr/winners/2009/zoom.php?eid=1-9091-09&uid=2225449
###