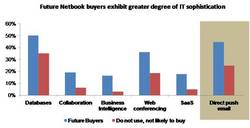 Netbooks could also be a future device for push email and more. This would require a back office set up that 1-19 employees may not have and other providers will have to step in with a more holistic and vertical solution thus influencing and changing the vendors' go-to-market models. There is nothing stopping a service provider in selling the devices and push-mailing to a netbook
San Jose, CA (PRWEB) July 21, 2009
Techaisle 's study on ownership and use of Netbooks among businesses shows that current and potential Netbook buyers are more technologically sophisticated than non-Netbook owners and support mobility products within their businesses. These small businesses not only support and use mobile applications such as direct push email they have a defined policy for the use and support of Smartphones. Surveys were conducted across several countries in both developed and emerging markets.
The study conducted by Techaisle, a market research and consulting organization focused on Emerging Markets, Emerging Technologies and Interactive Entertainment also found that 46 percent of small businesses that are "Likely to Buy" Netbooks currently use push email. These small businesses are tech savvy using databases, SaaS and collaboration technologies.
As per the study, ASUS brand with 52 percent penetration is strong among small business primarily due to early entry into the market and availability through online retailers and local VARs/Resellers. Dell and HP are stronger players with higher penetration within Mid-market and Large Businesses.
The netbook study also found that purchase channels are uniquely different for Netbooks than those of notebooks and desktops. The channels differ not only by the size of business but also the brands being purchased. Small businesses in Europe have shown a propensity to purchase through service providers.
"Savvy business buyers are realizing the role of Netbook in their IT architecture with considerable implications for the way vendors' distribution channels and go-to-market models should be structured", says Paolo Puppoli, Techaisle, EMEA Region.
Findings of the study reinforce the perception that Netbooks are penetrating the business landscape. "Netbooks could also be a future device for push email and more. This would require a back office set up that 1-19 employees may not have and other providers will have to step in with a more holistic and vertical solution thus influencing and changing the vendors' go-to-market models. There is nothing stopping a service provider in selling the devices and push-mailing to a netbook", says Paolo Puppoli.
"Given the constantly improving capabilities of smartphones and the upcoming debut of Ultra Low Voltage (ULV) based PCs which will bring thin and light full size notebooks to the market, the Netbook category may get squeezed", says, Abhijeet Rane. Techaisle believes that the misconceptions around Netbook capabilities could hurt traditional Notebooks but could also help ULV PCs as they narrow the value proposition gap with Netbooks. Netbook purchase intentions expressed by small businesses may get diluted by both ULV based notebooks and smartphones and for the Netbook category to continue it needs to deliver a significant value proposition differential to the market.
Survey results in the release are available for purchase as reports.
About Techaisle
Techaisle is a market research and consulting company focused on Emerging Markets, Emerging Technologies and Interactive Entertainment. Techaisle provides actionable data delivered as an answer to a specific question. Techaisle offers services in five major areas - Market Sizing; Survey Research of End Users; Survey Research of Distribution Channels; Custom Market Research; and Segmentation. Techaisle's segmentation algorithms are easily understood, easily deployable and drive actual sales and market understanding. Techaisle's blog can be read at http://techaisle.wordpress.com
For more information on Techaisle or its global products/services, please visit http://www.techaisle.com or call 408-914-2989.
# # #