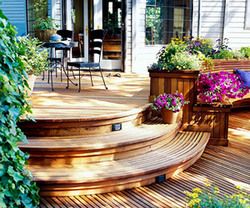 From design and building experts and our readers contributions, we have accumulated a huge amount of information on building a deck
New York, NY (PRWEB) July 20, 2009
Better Homes and Gardens magazine and BHG.com are currently featuring detailed instructions, videos, and photos on how to build a deck, including deck designs and deck plans and instructions on deck maintenance. These deck designs are applicable for platform decks, free-standing decks, deck planters, and other types of decks.
"From design and building experts and our readers contributions, we have accumulated a huge amount of information on building a deck," said Doug Crichton, Editor-in-Chief of BHG.com. "Not just deck designs and deck plans, but we include lots of detailed instructions and advice on deck maintenance, cost-effective deck materials, and even a deck safety checklist."
Among the highlights of the complete list of BHG.com deck resources are:
For first-time deck builders, photos of 10 things to know before starting include information about building a deck to suit your lifestyle, why it is important to invest in quality supporting materials, deck aesthetic considerations, and other things that the novice may not know to think about.
Designing the perfect deck covers setting clear goals during the planning process, establishing a realistic budget, becoming informed about the construction process, and making good decisions to keep the project running smoothly.
A video on wood-deck maintenance includes detailed information on cleaning and protecting a deck, including what kind of equipment to use and how to stay protected from cleaning chemicals.
The National American Deck & Railing Association's 10-point safety checklist includes deck safety tips for steps, building materials, and finishes and specific specifications for keeping pets and children safe.
About BHG.com
Developed by the experts at Better Homes and Gardens, BHG.com is the premier home and family site on the Web, and the interactive companion to Better Homes and Gardens magazine. BHG.com is for people interested in turning home, cooking, and gardening inspiration into action.
BHG.com is focused on decorating, building and remodeling, crafts, entertaining, cooking, and gardening. It also has extensive information for women and families. In addition to providing useful tools and advice, BHG.com's trusted experts keep visitors informed on the latest developments and trends around home and garden. BHG.com was designed with real people in mind. It has easy-to-use interactive tools, clear visuals, step-by-step instructions, and money-saving suggestions. It makes life easier and more enjoyable.
# # #